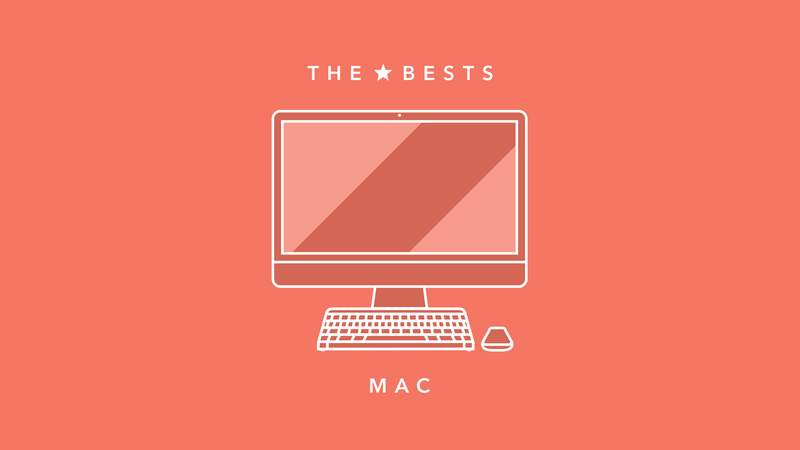 Hey, look! A sleek computer with a piece of fruit embossed on it. Contrary to popular belief, there's loads of games to be played on Apple computers.

We've made this list with an eye toward matching our list of the best PC games when possible, while keeping in mind that most people's Macs can't quite handle the graphical demands of the most cutting-edge PC games. Our twelve recommendations follow.
In FTL, you never really know what will happen next. That's a good thing: the space exploration game creates levels and scenarios on the fly, meaning that nearly every playthrough is memorable. You'll command a crew and do your best to make it through deep space: Chances are, you won't survive. But hey, maybe next time you'll do a little better.
A Good Match For: Star Trek fans, those who revel in the idea of flying off into the deep recesses of space just to see what they find, and those who don't mind chaos. There's a lot of randomness in FTL.
Not a Good Match For: Those who don't like a challenge, as FTL is a particularly difficult game. Also probably not a good match for people who, for some reason, hate space and space travel.
Watch it in action.
The legendary turn-based strategy series changed things up significantly with Civilization V to make would-be world domination tons more streamlined. Maps are easier to navigate, crucial information flows easier and it's the best-looking entry in the family tree. And now with two terrific expansions in Gods & Kings and Brave New World, Civ V is meatier, more complex, and easier to recommend than ever.
A Good Match for: Event planners. Like a wedding or a milestone birthday party, Civilization V's all about knowing your guests and what they need to have a good time. Of course, those "guests" are rival nations and "a good time" is submitting to the power of your empire.
Not a Good Match For: Those who want the older Civ games. Civilization V is no incremental sequel, and the difference could alienate die-hard fans of the historical franchise.
Read our review of the latest expansion.
Watch it in action.
Purchase from: Steam | Amazon | Wal-Mart | Best Buy | GameStop
Remember Magic: The Gathering? Sure you do. Blizzard's card strategy game Hearthstone: Heroes of Warcraft is a lot like that, albeit streamlined and easier to pick up and play... and way more addictive. After an hour or two you'll be building your own custom decks and challenging your friends and strangers to matches, either online or, if you happen to be sitting near to them, in person. Each match is over in a matter of minutes, making it easy to fit into your everyday life. And while eventually you might feel tempted to start paying for the random card booster packs, you can wring a whole lot of enjoyment out of Hearthstone without paying a nickel.

A Good Match For: Fans of card games like Magic: The Gathering, people who like Blizzard games.
Not a Good Match For: High-level perfectionists who don't want to pay extra, people hoping for an offline option. Hearthstone will do a good job of matching you up against random online players of a similar level, but if you want to build a deck full of rare, powerful cards, you'll have to sink in some cash.
Read our thoughts on the iPad version.
Watch it in action.
Download From: Blizzard
You can almost hear the battle cries and smell the gunpowder in what is arguably Creative Assembly's finest strategy game, which gives players the goal of ascending to supreme military domination against rival feudal lords. Improvements in AI behavior and the introduction of skills allocation let you be a more flexible commander than in previous Total War games.
A Good Match For: Akira Kurosawa fans. Some of the Japanese director's best dramas took place in Japan's feudal period, and this Total War game gives a big-picture view of the kinds of conflicts that daimyo and samurai soldiers experienced. Everything about Shogun 2—from the artwork to the soundtrack to the overarching gameplay goals—puts you inside a living history lesson.
Not a Good Match For: Fans of Creative Assembly's more ambitious projects. Unlike Empire or Rome, which let you build an empire spanning continents against vastly different foes, Shogun is fairly limited in its scale.
Read our review of the game's last expansion.
Watch it in action.
Purchase from: Amazon | Steam | Mac App Store
When it came out in 2014, Divinity: Original Sin already seemed almost too good to be true. Here we had a PC RPG that combined turn-based tactical combat,Ultima-style world simulation, and pen-and-paper co-op role-playing. It was great. A year later, Original Sin has been re-released in an Enhanced Edition with a number of major improvements. The game now works (well!) with controllers, and it's now possible to play through the entire game in split-screen co-op. There are a bunch of new items and abilities, the story has been reworked, and the script is now fully voice-acted. One of the best CPRGs in recent memory got a whole lot better.

A Good Fit For: Fans of old-school RPGs like Ultima VII and Baldur's Gate; people looking for a meaty RPG to play through with a friend; fans of turn-based tactics RPGs.
Not A Good Fit For: Anyone looking for something relaxed and casual. Original Sin is a difficult, demanding game, and it requires you to manage a bunch of complicated RPG inventory, crafting, and magic systems.
Read our impressions of the base 2014 game.
Watch it in action.
Study our tips for the game.
Undertale might look like a retro-style JRPG, but it's unusually forward-thinking. As a human stuck in a world of monsters, you decide whether you want to win encounters with wanton violence or clever context-based interactions (talking, joking, petting, etc). Undertale keeps track of everything you do; it's paying very close attention, and will often express that attention in surprising ways. Every life you take ultimately has consequences. Despite those grim trappings, Undertale can be an incredibly warm, fuzzy, and funny game. Whether you slaughter or befriend everyone (or walk a middle path), the writing in this game is top-tier, the soundtrack is second-to-none, and the plot hides a treasure trove of secrets that players still haven't fully uncovered.
A Good Match For: Lovers of smart video game stories, fans of games that subvert expectations, people who've ever felt even a single pang of loneliness.
Not A Good Match For: People who hate shoot-'em-ups and tough boss battles (Undertale's combat system has elements of both), those who aren't fond of reading dialogue, haters of lo-fi pixel art.
Read our review.
Watch it in action.
Purchase From: Steam | GOG | Developer's Site
You know Minecraft. We know Minecraft. Everyone knows Minecraft. Indie designer Markus Persson's mega-hit has gone on to become an unstoppable, corporate-controlled juggernaut, but that's done very little to diminish the fascinating, terrifically fun building game that it remains to this day.
A Good Match for: Frustrated urban planners. Aside from the dodging the game's monstrous green Creepers, all you need to build your Tower of Babel is patience and time.
Not a Good Match For: Those who want hi-res graphics. Part of Minecraft's charm is in its blown-out pixellated aesthetics so, if you prefer a steady diet of Unreal Engine-powered content, this one's a pass.
Watch it in action.
Purchase from: Mojang
Just a man and a dog, looking to make a delivery. That's how it all begins, anyway. But Kentucky Route Zero quickly becomes a mystical adventure through a land left behind by time, an odyssey in magical realism that feels grand and mysterious in a way that very, very few modern video games can muster. It's not like anything you've ever played, and for that alone, you should play it.
A Good Match For: Anyone looking for something different. Those who still believe there's magic hidden somewhere off the interstate.
Not A Good Match For: Those looking for a bunch of complex game mechanics—Kentucky Route Zero is a point-and-click adventure game, and a fairly simple one at that. Also, not for those who want closure—the five-act series is not yet complete, and there tends to be a long wait between chapters.
Watch a video about why the game is great.
Purchase From: Amazon | Steam | Humble
Call it the Superman 2 or Empire Strikes Back of video games. Valve's follow-up to a classic improves on the humor, characterization and puzzle-solving of its predecessor to deliver a tight, focused experience full of poignancy and humor. It may be one of the oldest games on this list, but it continues to hold its place by offering peerless puzzles and one of the best split-screen co-op modes of all time.
A Good Match for: Comedy lovers, puzzle fans, those looking for something to play with a friend on the couch.
Not a Good Match For: Mediocrity fans. People who argue with Portal 2's greatness are like folks complaining that diamonds came from dirt. Their argument is invalid.
Read our review.
Watch it in action.
It's one of very few video games that can be called a national obsession. Elite players of Blizzard's real-time strategy sequel can out-earn corporate middlemen in China or Korea, but the sci-fi conflict simulator's most significant currency is the devotion from millions all over the world.
A Good Match for: Jugglers. Succeeding in StarCraft II means waging war on multiple fronts as you keep an eye on resources, deployment, defense and offense in skirmishes where you can be overrun in an instant.
Not a Good Match For: Those hoping for a gentle introduction. New participants to the Starcraft multiplayer experience will get chewed up as they learn the strengths and weaknesses of the Zerg, Protoss and Terran factions.
Read our review of the latest expansion.
Watch it in action.
Purchase from: Amazon | Wal-Mart | Best Buy | GameStop
By boat, by land, by airship, by giant mechanized city with legs, do you have what it takes to make it… Around the World in 80 Days? That's the question at the heart of 80 Days, a fantastical re-imagining of Jules Verne's famous novel that casts you as Passepartout, manservant to the gentleman Phileas Fogg. As a valet, you are responsible for packing the bags, negotiating at markets, and planning the itinerary on your journey 'round the globe. Each trip will be different from the one before it, and thanks to the game's peppy writing and frequent surprise detours, each trip will be great deal of fun. 80 Days captures the joy and melancholy of travel with unusual wit and humanity.

A Good Match For: People who like interactive stories, geography buffs, fans of travel.
Not a Good Match For: Anyone looking for a low-investment, pick up/put down action game. Also, those who hate to read—the majority of 80 Days is text-based interactive fiction.
Watch it in action.
Purchase from: Steam | GOG | Humble
XCOM 2 refines or overhauls almost every little thing about 2012's XCOM: Enemy Unknown, a game that was already good enough to win Kotaku's 2012 Game of the Year award. The game is meaner and faster than its predecessor; most missions have timers that push you forward and force you to take risks, and the new alien types will break even your most time-tested strategies. You'll get more attached to your team of customizable soldiers than ever, which makes it all the harder to watch them die horribly in the field. Watch out for the snakes, man. The snakes are the worst.

A Good Match For: Strategy fans, people who liked the first game, anyone who's ever wanted to understand just how difficult it is to fight off an occupying force from the inside out.
Not A Good Match For: The easily frustrated, those looking for a simple game, anyone who rages at missing point-blank shots due to dice rolls.
Read our review, and a chat about what makes it all work so well.
Watch it in action.
Study our tips for playing the game.
Purchase From: Steam
How has this list changed? Read back through our update history:
3-2-2016 Update: Now with video!
2-29-16 Update: We've done another big pass, removing Counter-Strike: GO, Half-Life 2, Dragon Age: Origins, Dota 2 and Xcom: Enemy Unknown while adding Undertale, Divinity: Original Sin, XCOM 2, 80 Days and Hearthstone.
9-11-14 Update: We've made a few substitutions to bring this list up to match our PC games list. Deus Ex: Human Revolution, Arkham City, Team Fortress 2, Gone Home and Borderlands 2 have cleared room for Total War: Shogun 2, Kentucky Route Zero, Counter Strike: GO, Dragon Age: Origins and Dota 2.
12-13-13 Update: With a design overhaul comes an opportunity to add a bunch of great PC games that have made their way over to the Mac. Many of our past and present best PC games now appear on this list: Half-Life 2, XCOM: Enemy Unknown, Civilization V, Gone Home, FTL, Batman: Arkham City, Deus Ex: Human Revolution and Borderlands 2 come on board to replace Trine 2, Amnesia: The Dark Descent, Bejeweled 3, Braid, Galaxy on Fire Full HD, Limbo, Left 4 Dead and NBA Jam.
Want more of the best games on each system? Check out our complete directory:
The Best PC Games • The Best PS4 Games • The Best Xbox One Games • The Best Nintendo Switch Games • The Best Wii U Games • The Best 3DS Games • The Best PS Vita Games • The Best Xbox 360 Games • The Best PS3 Games • The Best Wii Games • The Best iPhone Games • The Best iPad Games • The Best Android Games • The Best PSP Games • The Best Facebook Games • The Best DS Games • The Best Mac Games • The Best Browser Games • The Best PC Mods
Note: If you buy any of these games through the links in this post, our parent company may get a small share of the sale through the retailers' affiliates program.