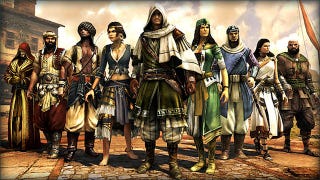 In preparation for the November 15th launch of Ubisoft's upcoming open-world stealth/action/swarthiness-simulator Assassin's Creed: Revelations, the publisher will be running a multiplayer beta for the game from September 3-11th. However, the beta is exclusive to Playstation Plus members as well as "select Playstation 3 Uplay members."
Multiplayer in the new title will be much the same as the surprisingly enjoyable cat-and-mouse of last year's Assassin's Creed: Brotherhood, though with the expected number of new modes and maps. More information can be found at Ubisoft's official Revelations beta webpage.
---
You can contact Kirk Hamilton, the author of this post, at kirk@kotaku.com. You can also find him on Twitter, Facebook, and lurking around our #tips page.