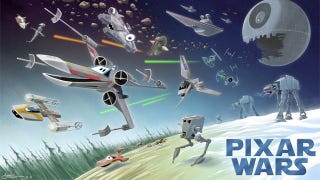 Let's get this workweek rolling with some stimulating conversation between you, me and your fellow Kotaku readers. Yeah. You! It doesn't even have to be about video games. Watch!
How was your weekend? Mine was spent feeling unusually busy, but with little tangible to show for it, other than some much needed beauty rest. The week has already started off with a bang. I previewed two of 2011's more interesting games today, both of which I should be able to talk about within the week.
Perhaps the best thing I saw today on the internet was the above filtering of Star Wars through Pixar's Cars aesthetic, as beautifully illustrated by Andrew Chesworth. Did you see anything awesome on the internet today? Let us know!
Please talk amongst yourselves about these topics or any other that springs to mind.