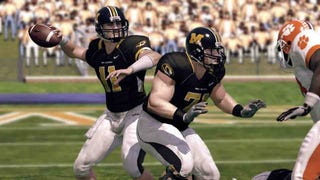 It's back to school two months early with NCAA Football 11 on Tuesday. Dragon Quest IX is already out today, and DeathSpank slaps down on Tuesday for PSN and Wednesday for Xbox Live Arcade.
Sunday, July 11
Also: CosmicBreak (PC)


Monday, July 12
Pop Island - Paperfield (DSiWare)
Tuesday, July 13
NCAA Football 11 (PS2, PS3, 360) - EA Sports' college football sim delivers more of the tradition of Saturday afternoons, upgraded with ESPN presentation, better rushing mechanics and playcalling.
DeathSpank (PSN) - This action/rpg is a downloadable title billed as "Diablo with a sense of humor." It's out for PS3 on Tuesday, and comes to Xbox Live on Wednesday.
Also: Animal Planet: Vet Collection (DS); Chuck E. Cheese's Party Games (DS); Disciples III: Renaissance (PC); Dungeon Raiders (DS); Junior Classic Books and Fairytales (DS); Landit Bandit (PS3); Little League World Series Baseball 2010 (PS3, 360); Little League World Series: Double Play (DS, Wii); Paws & Claws Regal Resort (DS); The Bachelor (DS, Wii); The Sorcerer's Apprentice (DS)


Wednesday, July 14
Deadliest Warrior: The Game (360)
DeathSpank (XBLA)
Thursday, July 14
Looking Ahead
July 20: Need for Speed World, TrackMania Wii. July 27: Starcraft II: Wings of Liberty. Aug 4: Castlevania Harmony of Despair. Aug. 10: Madden NFL 11, Scott Pilgrim vs. the World, Monday Night Combat, Lucha Libre AAA: Heroes of the Ring.
What are you getting? What do you want? What are you looking forward to? Sound it off below, and at #twig.