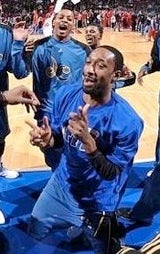 NBA all-star Gilbert Arenas, whose joking pistols-at-dawn challenge to a pissed-off teammate was no laughing matter to the league, is absent from fan voting on the NBA Jam roster. EA Sports says it's not entirely because of his legal troubles.
Speaking to The Sporting News' First Cuts blog, an Electronic Arts spokesman attributed Arenas' absence to "production deadlines and Gilbert's current inactive status as a result of the suspension." However, the publisher promises it will "continue to monitor the situation" and that it has the ability to update the game through downloadable content.
That's pretty good news actually - post-release DLC support for a sports title on the Wii is unfortunately not that common. So now that EA's acknowledged such plans, one hopes we'll see other updates to NBA Jam, not just Arenas' inclusion once he gets out of the penalty box.
As to that, today Arenas was sentenced to 30 days in a halfway house and 400 hours of community service for his conviction on violating District of Columbia gun laws on Dec. 21. Arenas and teammate Javaris Crittenton had been in a dispute over a gambling debt, which Arenas mockingly suggested they settle by bringing guns to the team clubhouse and implying that Crittenton pick one for a duel.

EA Responds to Gilbert Arenas NBA Jam Question [First Cuts via Pasta Padre]