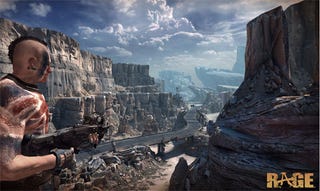 EA's involvement with id Software's combination first-person shooter/racer Rage has come to an end, with publishing duties acquired by id's new parent company ZeniMax Media.
EA and id first announced a publishing partnership for Rage during E3 2008, but much has changed since that event, including id being acquired by Bethesda Softworks parent company ZeniMax Media. When the transaction was announced in June of this year, ZeniMax indicated that purchase would not affect games slated for release through other publishers. Now in a brief press release issued this morning, the company has announced that they have acquired the publishing rights for Rage, and EA would no longer be involved.
The change in publishers will not affect the development game.
No specific reason was given for the change. It could be a matter of EA cutting costs, or ZeniMax reining in their own property. We've followed up with someone at ZeniMax, who was unable to discuss the terms of the acquisition, so go ahead and speculate to your hearts' content. I am going to imagine that Bethesda's Pete Hines won the rights in a poker game with EA's John Riccitiello.