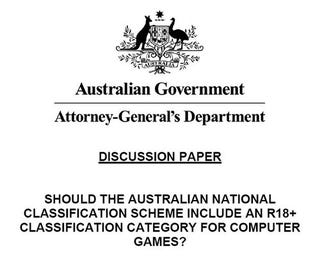 Yesterday, the Australian government released its long-awaited discussion paper on an adults-only rating for video games (or, as we'd call it, R18+). I've already sent in my contribution; any of you care to do the same?
The paper has been released to canvas public opinion on whether Australia's classification guidelines should be amended to include an R18+ rating. It's not a clear statement of intent, nor a sign that changes are on the way; it's the government simply saying "hey, we're listening, what's up".
Still, this is probably the best chance for Aussies fed up with receiving heavily censored titles to have their opinions heard officially, so if you're an Australian citizen or resident hit the link below and fire off an email if you'd like to contribute.
[An R18+ Classification for Computer Games - Public Consultation]