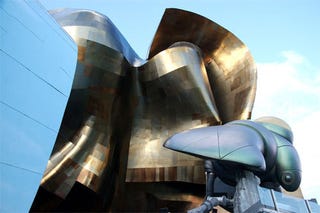 Bungie is throwing a party next week in Seattle to celebrate all things Halo, an event that just so happens to coincide with the release of Halo 3: ODST. Should you go?
Well, Halo 3: ODST creative director Joseph Staten from Bungie and Halo franchise development director Frank O'Connor from 343 Industries will be there, rubbing elbows with the crowd. Bungie and 343 folks will also be hold panels that touch on the creation of ODST and upcoming projects like Halo Legends and Halo Waypoint. Look, if you want to gorge on Halo things you'd best plan for a trip to Seattle.
Halo 3: ODST will also be playable, but wed imagine that the hardcore fans willing to travel may have already scared up a copy by then or secured a place in line at some midnight launch.
Still, if this sounds like your cup of tea, the "Halo Franchise Celebration and Halo 3: ODST Launch Event" happens Monday, Sept. 21 from 6 p.m. - 11 p.m. at the Experience Music Project and Science Fiction Museum and Hall of Fame in Seattle. More details at the Facebook event page.
Halo Celebration! [Facebook - Image Credit]