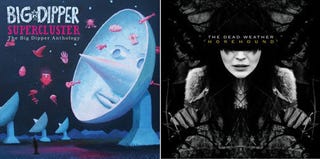 MTV Games has accomplished what we once thought impossible, releasing a single, catch-all notification about downloadable track updates to Rock Band for the PlayStation 3, Xbox 360, PSP and Wii. Brace for massive lists!
Not only do we get the regular Friday update on what's new and forthcoming for the PS3 and Xbox 360 versions of Rock Band, we get the weekly Wii library catch up, and the latest additions to Rock Band Unplugged. Huzzah!
First out of the gate are new Rock Band and Rock Band 2 tracks, a triple shot of track packs from Judas Priest, Big Dipper and The Dead Weather. Sure, Jack White may find it "sad" that the kids are experiencing new music in music games, but apparently has no qualms about selling his band's music to Rock Band owners.
The Wii version of Rock Band 2 adds a slew of tracks from The Pixies, Spinal Tap, Foreigner and more. And Unplugged for the PSP gets a deuce from Radiohead and Killswitch Engage.
Platforms, release dates and prices are cataloged below.
Rock Band & Rock Band 2 (Xbox 360/PS3)
Available July 14/16 for $1.99 (160 Microsoft Points for Xbox 360) per track or $5.49 (440 Microsoft Points for Xbox 360) per track pack
Big Dipper "All Going Out Together"
Big Dipper "She's Fetching"
Big Dipper "Younger Bums"
Judas Priest "Dissident Aggressor (Live)"
Judas Priest "Eat Me Alive (Live)"
Judas Priest "Prophecy (Live)"
The Dead Weather "Hang You From the Heavens"
The Dead Weather "No Hassle Night"
The Dead Weather "Treat Me Like Your Mother"
Rock Band 2 (Wii)
Available July 14 for 200 Wii Points per track
Black Rebel Motorcycle Club "Weapon of Choice"
Dear and the Headlights "Sweet Talk"
The Devil Wears Prada "Hey John, What's Your Name Again?"
Evanescence "Bring Me to Life"
Evanescence "Call Me When You're Sober"
Foreigner "Blue Morning, Blue Day"
Foreigner "Feels Like the First Time"
Foreigner "Headknocker"
The Killers "Mr. Brightside"
The Killers "Smile Like You Mean It"
The Killers "Spaceman"
Maroon 5 "Little of Your Time"
Maroon 5 "Makes Me Wonder"
Maroon 5 "Wake Up Call"
The Pixies "Crackity Jones"
The Pixies "Dead"
The Pixies "Debaser"
The Pixies "Gouge Away"
The Pixies "Here Comes Your Man"
The Pixies "Hey"
The Pixies "I Bleed"
The Pixies "La La Love You"
The Pixies "Monkey Gone to Heaven"
The Pixies "Mr. Grieves"
The Pixies "No 13 Baby"
The Pixies "Silver"
The Pixies "Tame"
The Pixies "There Goes My Gun"
Spinal Tap "Back From the Dead"
Spinal Tap "Rock 'n' Roll Nightmare"
Spinal Tap "Saucy Jack"
Spinal Tap "Warmer Than Hell"
Thrice "Image of the Invisible"
Rock Band Unplugged (PSP)
Available July 16 fpr $1.99 per track
Radiohead"My Iron Lung"
Killswitch Engage "My Curse"