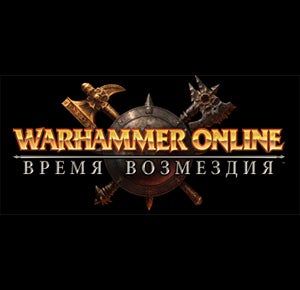 EA and Mythic Entertainment are getting ready to invade Russia next month, as they announce the official February release date for the localized version of Warhammer Online: Age of Reckoning.
Announced back in July of last year, the Russian version of Warhammer Online will be shipping out on February 5th, in 3 different flavors and price points.
The bare bones jewel case version of the game comes with the disc and 14 days of gameplay for a mere 499 Rub. Gamers with a few hundred more rubles can opt for the limited-edition SteelBook version for 899 Rub , which comes with the game, 30 days of play, and a manual. Finally, particularly ruble-rich fans can opt for the Collector's Edition, which adds a Games Workshop Grumlok and Gazebag miniature, a localized graphic novel, hardbound art book, and special item rewards, all for 2499 Rub.
Keep in mind the Collector's Edition is limited to 5100 units, so Russian Warhammer fans might want to start lining up early.
EA Goes to WAR in Russia as Warhammer Online: Age of Reckoning Ships on February 5
MOSCOW—(BUSINESS WIRE)—Warhammer® Online: Age of Reckoning® continues its worldwide march as Mythic Entertainment™, an Electronic Arts Inc. (NASDAQ:ERTS) studio, today announced that the fully localized Russian version of Warhammer Online: Age of Reckoning (WAR) will go live on February 5, 2009. The Russian version of WAR will feature a fully localized gameplay experience as well as regionally-based servers and customer support.
First launched in North America, Europe and Oceania in September of 2008, WAR continues to receive praise from media for innovative features such as Realm vs. Realm™ gameplay and Public Quests™, picking up numerous year-end critics awards including GameSpy's MMO Game of the Year Award and IGN's Best of 2008.
"Everyone at Mythic Entertainment is honored and gratified each time we get the chance to bring the glory of WAR to those who have yet to experience it," said Mark Jacobs, co-founder and general manager of Mythic Entertainment. "In February a whole new force of Russian recruits will join the ranks of Order and Destruction – and it's going to be fantastic."
Based on Games Workshop's epic and longstanding tabletop fantasy war game, WAR is a unique MMORPG that features revolutionary Realm vs. Realm™ (RvR) gameplay that will immerse players in a world of perpetual conflict for years to come. WAR has been recognized for its unique play style that appeals to novice MMO players while offering incredible depth for more seasoned players.
Russian gamers will have a choice to acquire one of three different packaging options in the Russian market:
Collector's Edition – 2499 Rub
The Collector's Edition will include an exclusive Games Workshop miniature – Grumlok and Gazbag, the fully localized original Graphic Novel – Prelude To War, Art Book, 30 days of gameplay and additional in-game quests, items and rewards. A limited quantity of 5100 Collector's Editions will be available.
Limited Edition SteelBook – 899 Rub
A Limited Edition SteelBook version will feature the game, Russian user manual and 30 days of gameplay.
Jewel Case – 499 Rub
The Jewel Case will contain the game and unique key for new account creation with 14 days of gameplay. Alternatively, the key can be used by existing account holders as a 30 day prepaid game card.
Additionally, active WAR accounts will be able to buy a 60-Day prepaid game card. Packed in a DVD box with a stylish coaster for beverages, it will be available for 899 Rub.
WAR is developed for the PC. For more information visit www.war-russia.ru