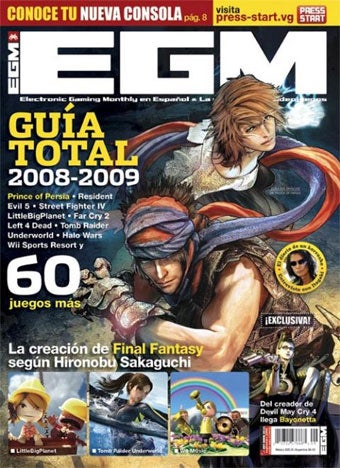 The Spanish language print version of EGM has seen its last issue, according to the magazine's editorial director Adrián Carbajal. He cites the uncertainty over the English language version's fate as the cause for closure.
Carbajal writes that concerns about the ability of Ziff Davis' gaming mag to continue beyond 2008 led the Mexican licensor of the EGM brand to shutter the mag. That means EGM fans south of the border will have to settle for the December 2008 issue, the one with Watchmen gracing the cover, as the mag's "adios" issue.
While we know the English language version will continue at least through its January issue, Ziff's CEO Jason Young sounds less confident in its ability to continue through the rest of the year.
It was reported last night that UGO was interested in buying the 1UP network of sites, but not the print version of EGM, another potential sign of weakness for the two-decade old mag.
Thanks to Josué Hernandez for the heads up.
EGM en Español (2002-2008) [Press-Start]