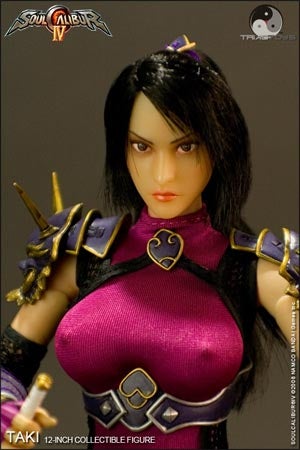 Triad Toys makes Soul Calibur fans' dreams come true with the upcoming release of their 12 inch rendition of the deadly female demon hunter Taki, complete with realistically sculpted...weapons.
The toy, which is available now for pre-order with a release date of March 27th, 2009, features a whopping 25 points of articulation, full metal hips (ouch), and magnetized feet that are perfect for posing her atop your delicate computer equipment. Or you might just want to make due with the Triad Bullet-Time figure stand that comes with. She comes complete with detailed clothing and armor that may or may not be removable for the curious among us, as well as Rekki-Maru and Mekki-Maru daggers for fending off the curious among us.
An extremely pretty figure, though she's going to cost you. $94.99 isn't cheap, but then again neither is Taki. Hit the jump for a full gallery.
SOUL CALIBUR 4: TAKI - 12 INCH FIGURE [Triad Toys]