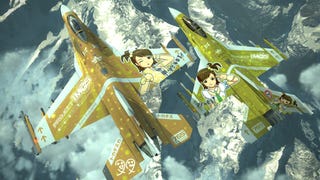 After my last Ace Combat 6 DLC post I finally went out and picked up the game, and after a few hours of play I was kicking myself for not grabbing it sooner. Against all sanity I even hopped online to download one of the gaudy Idolmaster planes - only to help me humiliate my foes online of course - and was floored by the sheer number of dlc planes Namco Bandai had pushed out. How many do we really need? 20? 30? How about 8 more?
Yes, next week 8 more planes will be hitting Xbox Live, with two standalone planes and three package deals. Packages include Razgriz Set 4 (3 planes, 300 points), the Jungle Flamingo Set (2 planes, 300 points), and the Idolmaster Ami Mami set, featuring two mercifully unpink planes for 400 Microsoft points.
Have any of you actually been keeping up with these, collecting the whole set, so to speak?


Ace Combat 6: Fires of Liberation

Xbox Live® Market Place Downloadable Content Available 29 May 2008

Su-33 - TYPE ACE2- (200 Microsoft Points)

Ace Combat 2 Aircraft. A faithful recreation of the Ace Combat 2 aircraft performance design. Outstanding stability and lack of recoil provide for a truly unique sense of flight. Although possessing an extremely durable body, this aircraft lacks SP weapons, which were not introduced until after Ace Combat 2.

Su-47 -GRABACR EMBLEM- (FREE)

Ace Combat: Squadron Leader Grabacr Squadron Aircraft. An aircraft that boasts increased mobility in designated speed zones, but a slight decrease in all other zones. The need for precise speed control makes this aircraft suitable for experienced pilots. The signature aircraft of the Belkan Air Force 229th Tactical Fighter Squadron. Originally employed as an Osean Federation offensive squadron, they took their final stand for the pride of Belka against the rival Razgriz squadron.

RAZGRIZ SET 04 – (300 Microsoft Points)

This is a 3 airplanes set with the colors from the Razgriz airplane colors from Ace Combat 5. The 3 airplanes included are: F-22A、F-117A、Mirage2000-5

• F-22A Raptor - RAZGRIZ

The heroes of Ace Combat: Squadron Leader, Razgriz Squadron Aircraft. Advanced accident prevention systems, and high durability have been incorporated into the design to ensure the survival of all squadron members. Known as both heroes and demons, the Razgriz Squadron's drive towards victory smashed all who stood before them. When history witnesses a great change, Razgriz reveals itself.

• F-117A Night Hawk – RAZGRIZ

The heroes of Ace Combat: Squadron Leader, Razgriz Squadron Aircraft. Advanced accident prevention systems, and high durability have been incorporated into the design to ensure the survival of all squadron members. Known as both heroes and demons, the Razgriz Squadron's drive towards victory smashed all who stood before them. When history witnesses a great change, Razgriz reveals itself.

• Mirage2000-5 – RAZGRIZ

The heroes of Ace Combat: Squadron Leader, Razgriz Squadron Aircraft. Advanced accident prevention systems, and high durability have been incorporated into the design to ensure the survival of all squadron members. Known as both heroes and demons, the Razgriz Squadron's drive towards victory smashed all who stood before them. When history witnesses a great change, Razgriz reveals itself.

JUNGLE, FLAMINGO SET – (300 Microsoft Points)

This includes the F-14 in green and the A-10A in pink.

• F-14D SuperTomcat - JUNGLE WING

Monotone color, Green Aircraft. A modified sky painting aircraft for shows and exhibitions, this aircraft is equipped with colored smoke missiles. The missile payload has been maximized for show purposes.

• A-10A ThunderBoltⅡ - FLAMINGO WING

Monotone color, Pink Aircraft. A modified sky painting aircraft for shows and exhibitions, this aircraft is equipped with colored smoke missiles. The missile payload has been maximized for show purposes.

THE IDOLMASTER AMI,MAMI SET – (400 Microsoft Points)

This set includes F-16C and the F-2A with some special Idolmaster colors.

• F-16C Fighting Falcon - THE IDOLMASTER MAMI

THE IDOLMASTER, Mami Futami Aircraft. It's time for this fun-loving prankster to strut her stuff! The battle will hinge on your ability to use her wild and mischievous qualities to your advantage!

• F-2A - THE IDOLMASTER AMI

THE IDOLMASTER, Ami Futami Aircraft. It's time for this fun-loving prankster to strut her stuff! The battle will hinge on your ability to use her wild and mischievous qualities to your advantage!

# # #