A Day for Dads | OSAKA,JAPAN: My soon-to-be 8 year-old Mini-Bash wrote me a nice note for Father's Day. I'll have to do the same when he turns 8 on Thursday. (Photo: Brian Ashcraft)
---
It's Cosplay Time, Come On Grab Your Friends I'll be honest with you. In terms of execution, this isn't the greatest Fancy Pants we've ever run. But in terms of effort, this one's right off the charts.
G/O Media may get a commission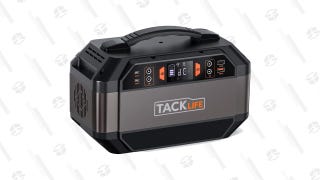 Tacklife Portable Solar Generator
---
The Secret of Star WarsThere are plenty of theories as to why the original Star Wars trilogy has been so successful. Analysis of its "hero's journey", its appeal to young and old alike, its timeless tale of good vs evil.
---
The Legend of Zelda: Ocarina of Time Was Almost an FPS During the game's development, Zelda creator Shigeru Miyamoto had this crazy idea: How about a Zelda game in which players cannot see Link?
---
Surely This Is the Smallest Adventure Game in the World Inspired by the minimalist arcade stylings of Defender of the Favicon, Boing Boing's Rob Beschizza has crafted himself the smallest adventure game I've ever played. Literally.
---
What Do Metroid and Soccer's Greatest Player Have in Common? The name of Metroid's star's name is Samus Aran. The name of soccer's greatest player is Pelé. But that's not his real name.
---
This weekend, I had a nice Father's Day, and I actually made waterguns out of bamboo. So cool. –Brian Ashcraft
---
We like tips!
Got tips for our editors? Want to show the world your latest creation? Ready to anonymously share an unannounced game? Email us at tips@kotaku.com. Or leave us an anonymous voicemail at (612) 568-2581.
Want a different layout?
Click here for the Speak Up or Tips forums. Want a more "blog-like" look? Click the button up top next to "Top Stories."
Get more Kotaku!
Want even more Kotaku? Want to know which of your friends read us? "Like" us on Facebook and follow us on Twitter.