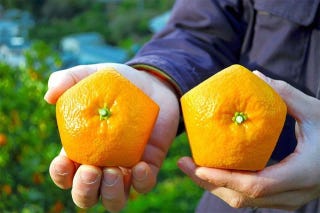 There's no better way to say, "Good luck on your school exams," than with citrus fruit pentagons, am I right?
Fruit farmers in Ehime Prefecture, Japan have created "Gokakukei Iyokan" (五角形イヨカン). A mix of mandarians and oranges, "iyokan" is sometimes called a "Japanese Summer Orange." And in Japanese, "gokakukei" (五角形) means "pentagon." But this special fruit's name is a pun!
See, "goukaku" (合格) means "successfully passing an exam." And "ii yokan" (いい予感) means a "good premonition." So, if written like "goukaku ii yokan" (合格いい予感), it means "to have a good premonition of exam success." Clever!
Since we are coming up on the big exam period for high school students hoping to get into the right university, giving one of this oranges would be a pun-filled way to offer encouragement.
These sound like they will become a local speciality: Next month, 300 of them are going on sale at a local festival, reports Asahi. So no, I have not seen any pentagon-shaped fruit at supermarkets here in Osaka. (Then again, it took over a decade of me living here to finally see a square-shaped watermelon.)
Courtesy of Asahi News and website Pouch, you can see more photos of the pentagon-shaped fruit as well as how they are grown into that pentagon shape. The farmers have been working on this for years! No idea how long it took them to come up with the pun.
5年の努力、五角形に結実 愛媛で「新型」のイヨカン [Asahi]
五角形の "いよかん" 登場![Pouch]
Photos: Pouch, Asahi_Matsuyama, jr5imw
To contact the author of this post, write to bashcraftATkotaku.com or find him on Twitter @Brian_Ashcraft.
Kotaku East is your slice of Asian internet culture, bringing you the latest talking points from Japan, Korea, China and beyond. Tune in every morning from 4am to 8am.