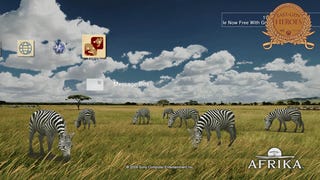 One of the key games used by Sony to demonstrate the graphical prowess of the PlayStation 3 prior to its North American release, Majesco's safari simulator Afrika came out three years after the console launched and wasn't very good. It's dynamic theme, on the other hand, is exquisite.
This was originally to be a post about dynamic backgrounds and themes, a feature that only existed in the PC realm before this generation. The ability to customize your console desktop how you want, when you want is a feature many of us take for granted.
Then I began flipping through some of my dynamic PlayStation 3 themes, and realized that, for the most part, they're generally horrible. Half-naked, chest-heaving demons, barely animated scenes from big-budget games, anime girls that look like they were drawn in a middle school art class.