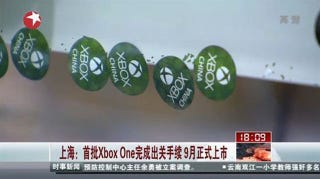 Chinese media is reporting that Microsoft's Xbox One console is right on schedule for its September 23 release in the middle kingdom.
Shanghai-based Dragon TV reports that the Xbox One has already gone through and was approved by the customs process in Shanghai and is now being packed onto trucks for shipment across the country. This means Xbox One will hit stores in China on September 23, 2014, like pretty much every other Asian country.
Microsoft first announced the release date of the home entertainment device during the week of China Joy. The system will come with a few timed exclusives, ranging from indie games to online games as well as bunch of government-approved launch titles that are already released in the West.