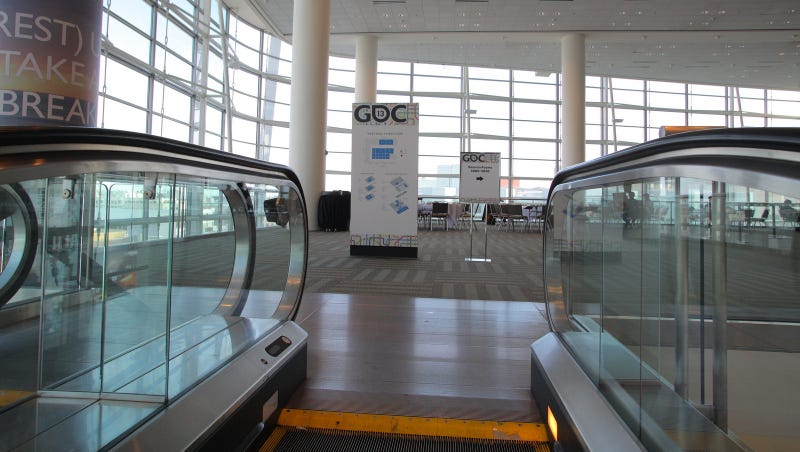 I did a lot of crying at GDC this year.
Maybe it's because I processed so many interactions—met so many good people, caught up with so many friends, cheered on so many heroes—that I am overwhelmed. From the distance of the internet I can usually manage it, Twitter and Facebook and however many internet comments I can stand to read, but in person sometimes it's a lot. I am conditioned, like Pavlov's dog, to hovering red notifications that demand addressing, to conversations that seem, in those moments of intimacy between my screen and me, to need immediate responses.
I live on the internet, really; I talk a lot, but I write even more, and the one week a year where nearly everyone in my world convenes on one whirlwind of a week, is anxious-making. Sometimes they bring years of history with them; sometimes they're people I've fought for, other times fought with. I've known them through their games or through an online avatar, a name on the screen suddenly delivered to me in person. We all have a lot to talk about.
It's a lot. It's a lot. It's a lot. I feel incredibly vulnerable. And yet this year, it seemed all right to be vulnerable, or at least it felt that when I came to look at the games industry this time, I felt that I stood at the rim of a world that was beginning to prize vulnerability, authenticity. Maybe I cried a lot because I felt I could, because people were listening.
I'm curled in my room; it's been an unusual three days since I last had a drink, but I needed it, after GDC. I needed to take a break from drinking. Maybe more than that, for the first time in the day-in-day-out years I have spent feverishly arched over this tiny keyboard in the service of video games, I didn't feel I needed to drink. I needed instead to sit here and search for the words to talk about why this year GDC made me feel exhilarated and overwhelmed and mostly really, really glad to be in video games again. Kirk, one of my dearest friends and a person who has seen me cry a lot, had the words.