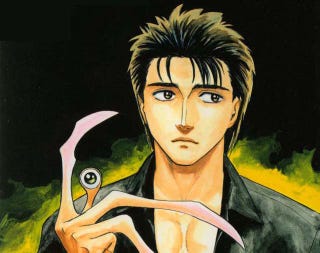 It's an alien invasion! Blood, guts, mutilation, and morphing-blade-headed aliens. This manga has it all.
*Note* This article contains graphic images of carnage that some may find offensive or disturbing.
"寄生獣" or "Kiseiju" (pronounced "kee-say-joo") is a manga that debuted in Japan in 1990. Why am I bringing up a manga that's over 20 years old? Because it's a classic and quite honestly one of my favorite series of all time. The series ran in Monthly Afternoon until 1995.
The manga also had an English translated release in 1999 by Tokyopop (then Mixx) under the title Parasyte.
What It's About
On a night much like any other, strange parasitic worm-creatures appear. These worms bore into human hosts and fuse with the head, assuming control and turning everything from the neck up into a shape-shifting organic mass. Once they have fully fused, the creatures gain full control over the host body they possess and follow a single primal instinct of cannibalism.
The parasitic creatures learn at a rapid pace and are capable of logical thought, quickly melting into society where they continue to feed on humans. The creatures are also capable of detecting other parasites in their immediate vicinity as well as sense each other's emotions as they continue to learn, begin to coordinate.
Shinichi Izumi is a normal high school student who is assaulted by a worm-creature that bores into his right arm and attempts to reach his head to fuse and assume control. Through sheer luck and a headphone cable, Shinichi prevent the creature from burrowing up into his skull and it instead fuses with his arm, leaving him with a sentient, shape-shifting, logical and ever-curious right arm named "Migi." (In the English version, the creature is named "Lefty" due to the left-right reversal of the images.) Because it never gained control of Shinichi's brain, Migi does not have the cannibalistic instincts that other parasites possess.
Shinichi soon after learns of the existence of the other parasitic creatures and he is thrust into a violent and deadly conflict in a fight to protect the ones he loves against mankind's new predator.
Review
Much like Ajin, Kiseiju is very much a supernatural thriller with a great deal of depth and heavy-hitting questions about what it means to be human.