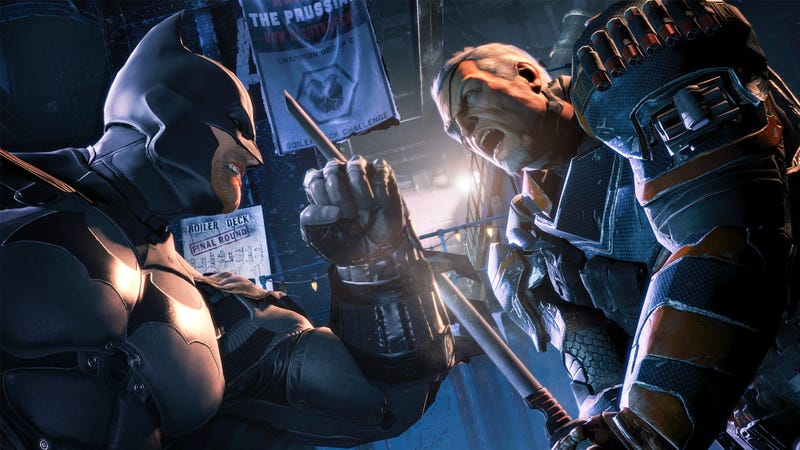 The folks making Batman: Arkham Origins know exactly what they're trying to accomplish with this year's Dark Knight video game. It's the story of the night where Gotham City's supervillain culture spins irrevocably out of control. This is when the Dark Knight becomes a legend, they say. So, it's really too bad that the new Bat-voice isn't working for me.
I've seen Batman: Arkham Origins twice in the last three weeks, first at PAX Prime in Seattle and then again at a demo in New York City last week where I got to play it. And when I watched that demo at PAX, the first thing that struck me was how different this Batman sounded. Of course, I knew it was coming. Still, I was shocked when really getting to hear Roger Craig Smith's rendition of Batman for the first time. Smith's Bat-voice is very gruff. Honestly, it's a little too growly for me—no, not as bad as Christian Bale's, and I say that as someone who likes Bale's Bat-voice—but, hey, Kevin Conroy's smoother vocal performances were a revelation to me all those years ago.
If I had to hazard a guess, I think hearing Smith's portrayal of Batman will feel normal after a few hours of playing. It's not a deal-breaker. Nevertheless, the change in voice actor is a smaller element in a bigger quirk about Arkham Origins.
When it comes to the circumstances of its development, this entry might be the most comic-book-like game in the series. In superhero comics, especially those belonging to long-lived characters like Batman, talent never sticks around. The storytelling torch always gets passed along. Batman comics didn't stop when writers or artists like Frank Miller, Greg Rucka, Don Newton or Norm Breyfogle moved on. And so it is with the character's video games. Rocksteady Games, to much acclaim, made Arkham Asylum and Arkham City and now it falls to the Warner Bros. Montreal studio to follow up those two very good games. They've gone the prequel route—crafting a Christmas Eve story where eight super-killers are trying to murder Batman to collect a bounty put out by underworld kingpin Black Mask—but also have to add new ingredients to a well-loved formula. So what's different?
For one thing, the open-world Gotham in Origins is denser than in City. Buildings have more levels to them. So, when you aim a grapple reticule at a structure, you don't have to automatically zip to the top. That density applies to nearly every aspect of the game that I've been shown so far. Origins layers a few different mission types across the main storyline. Take The Most Wanted missions, for example. They focus on super-criminals other than the eight assassins trying to collect the bounty on Batman's head. One such mission featured radical political vigilante Anarky, who's planted bombs all over the city that Batman must track down.