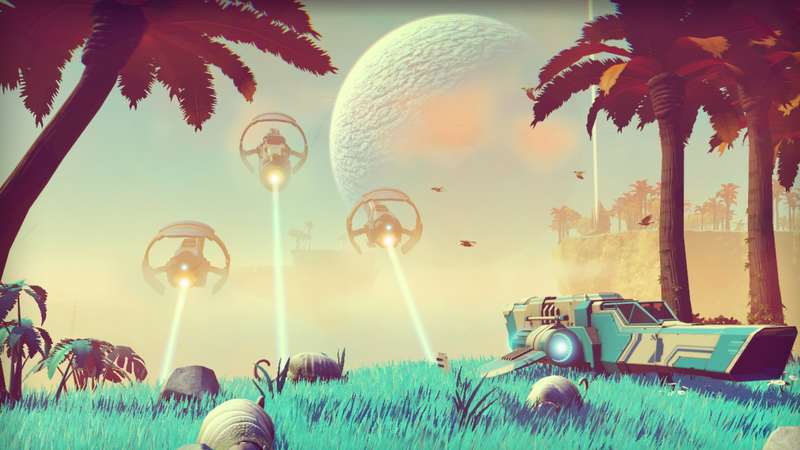 "What does sci-fi mean to you?"
I was asking Sean Murray, the managing director and founder of Hello Games, this question. He's one of a small team of developers working on the game that had everyone buzzing at E3 this year.
"That's a really good question," Murray said to me during an interview in a hotel a few blocks from the convention center. "Everyone just thinks sci-fi is future. Sci-fi is just alternate to me. It's just our version of the universe, an interesting universe, and I think one that's hopefully quite surprising and interesting to explore rather than our universe, which would be reasonably boring."
As he walked around the brightly-colored planet they had showed off in a trailer at Sony's press conference, he touched a button that highlighted a transparent geometric pattern over areas of the ground that could be mined for resources. Resources can be used to improve your suit, he later explained to me.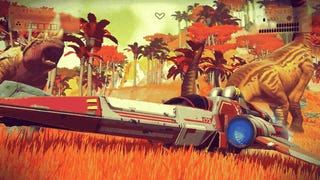 That's the only sense of "leveling" you'll find in No Man's Sky. You can improve your character through your suit, your weapon, and by buying new ships. You can't customize your ship. You buy newer, better ones. "It's not leveling up and there's not a tree it's just that when you go to a space station there will be some ships docked there sometimes," Murray explained. "If there are, you can try to buy those ships. You're not trying to customize those ships. It's just there's this hopefully real, working universe and you'd travel as you'd expect."
---
Murray: "There is a lore to the universe and we adhere to that but we're not going to tell you."
---
If you asked the people paying attention what No Man's Sky is you might hear a few common phrases: space battles, exploration, colorful, great music (that one might be from me specifically). The biggest talking point, though, is obvious: procedural generation. In a gigantic, explorable universe, there are tons of possibilities. Tons of variations of creatures and trees and space ships and caves and everything else that you can see.