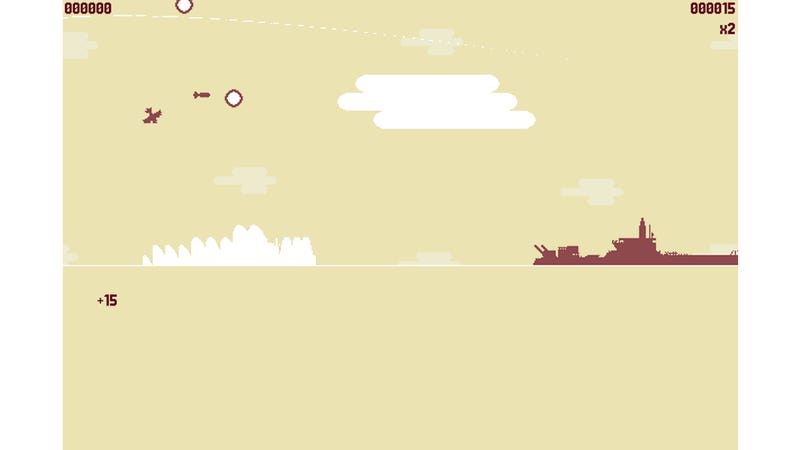 Rami Ismail gave me a funny look when I recently congratulated him about the release of Luftrausers, his studio's slick shoot-em-up that was just released for PlayStation platforms. He told me he had mixed feelings about the game. As he explained why he did, I suggested he write about it. He did and has let us republish his blog post about it below. I hope you'll find his take on his own game as surprising and intriguing as I did. - Stephen Totilo
My studio Vlambeer released Luftrausers a couple of weeks ago during the 2014 Game Developers Conference. Originally slated for spring 2012, Luftrausers had an exceptionally rough development cycle. Regardless of the delays, the reception was absolutely amazing: the game released with only minor problems. It's sitting on a stable 80+ metacritic score. The game recouped all expenses within 48 hours or so, and people seem to absolutely love it.
The games that Vlambeer make feel comfortable to me. They're games that allow you to get better. They are simple and straightforward but new and novel. They're friendly, even though they can be dystopian and difficult. You know, you're just jumping around grabbing a crate and shooting some monsters with a bazooka. You're flinging fish into the air and shooting them with a bazooka. You're running around the wastelands trying to shoot giant scorpions with a bazooka.
Luftrausers is different. Luftrausers is angry. Luftrausers is upset. It wants you to destroy things, to continuously blow up things, to never back down. If you do ever back down it is to allow yourself to heal so you can be more aggressive.
---
Luftrausers is different. Luftrausers is angry. Luftrausers is upset.
---
I know why the game is like that. It was originally conceived right in the middle of a really depressed time–right in the middle of us dealing with our game Ridiculous Fishing being cloned. Making the game was a final, desperate attempt to pull Vlambeer out of a tailspin, a tailspin that would've led to us simply giving up on game development. We were angry. We were upset. In that mental state, we worked on defining Luftrausers.