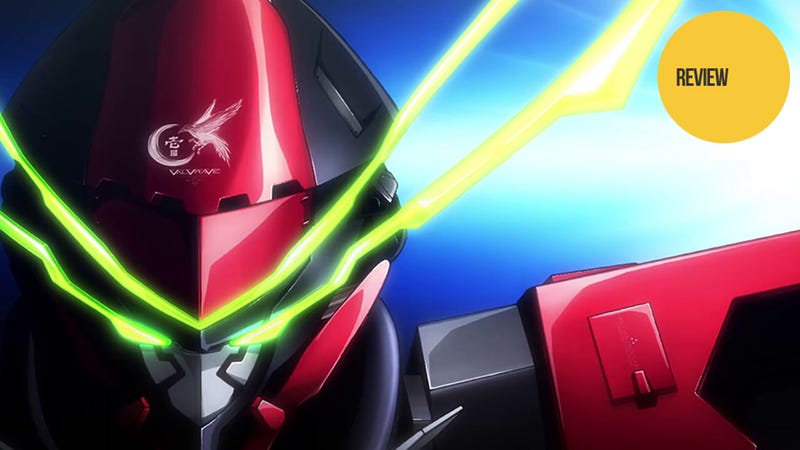 I've watched a lot of Gundam in my time. As a franchise, it is built around using the same story formula again and again with subtle twists. Valvrave is what happens when you stop being subtle and intersperse Gundam clichés with horrible consequences.
[Note: This is a review of the second season of Valvrave. Go here for our review of the first season.]
Good – Just When You Think It's Safe…
Perhaps the best aspect of Valvrave is how it manages to lure you into feeling safe and secure over and over again—right before yanking the carpet out from under you. It does this by constantly hitting all the beats you'd expect in a Gundam-style story—reinforcing the pattern seen in countless mecha shows before. Having to fight the enemy during re-entry, being one ship trapped behind enemy lines on Earth, or returning to space in the middle of a big firefight—there is nothing new about these plot points. However, in between, the story goes completely off the rails.
You see, in Valvrave, no one—absolutely no one—is safe. Over the course of Valvrave's second season, both major and minor characters drop like flies—and usually in ways you'd never see coming. Characters that would be safe in most shows—i.e., romantic interests—can be killed off even before they are properly introduced.
But it isn't just character deaths that demolish the formula we've come to expect, it's the plot twists and their incredibly dark consequences—which go up to and include genocidal purges.
Good – Fleshed Out Villains
One thing Valvrave does incredibly well is villains. There are the Nazi-like empire villains, the bodysnatching villains, the villains who pretend to be good guys, and the villains who the heroes know are bad but have to ally with for mutual survival.
But best of all, none of these antagonists are one-note. All of them are complex. None are doing evil for the sake of evil. Rather, all of them have their own specific goals and reasons for them. Moreover, these goals often cause the different villains to come into conflict (and sometimes alliance) with one another, making for a dynamic, realistic series of events.
Good – Completes the Story
From near the start of the first season, Valvrave shows brief glimpses of the far future—promising us we are seeing the birth of an empire that will last centuries. While an excellent tease, I was concerned in my review of the first half that there would be no satisfactory payoff. However, I clearly worried for nothing.