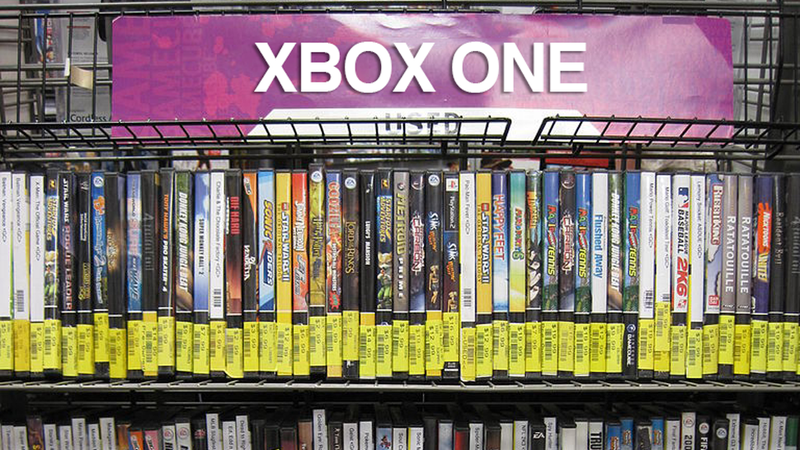 There's been a lot of chatter this week about used games, mostly spurred by the news that Xbox One games will come with one-time registration codes, meaning you can't just swap them with your friends or trade them at a GameStop.
Microsoft has promised some sort of ecosystem for used games, but the Xbox manufacturer has been sketchy about the details, probably because they're not finalized yet. Still, by the time we get our hands on the Xbox One, the concept of a "used game" as we know it may no longer exist.
Some think this is a horrendous, consumer-unfriendly move. Others argue that it could help the video game industry stay alive. Today, Ben Kuchera wrote an interesting article over at the Penny Arcade Report, concluding that the death of used games could lead to a healthier video game industry:
Without the used market sucking up all those sales and all that consumer money, it's very possible we'll see Steam-style sales on older or bundled games on the Xbox One. It's not a sure thing, but killing used games is going to free up a ton of money for companies to try new ideas in terms of sales and pricing. The people who get innovative and take advantage of this structure will thrive. The rest are likely to slowly choke on the new economics of game development.

It needs to be made clear, if all the studio closings and constant lay-offs haven't made this explicit: The current economics of game development and sales are unsustainable. Games cost more to make, piracy is an issue, used-games are pushed over new, and players say the $60 cost is too high. Microsoft's initiatives with the Xbox One may solve many of these issues, even if we grumble about it. These changes ultimately make the industry healthier.
I don't disagree with many of Kuchera's points—in fact, I've made some similar arguments about how a world without used games might not be so bad—and he's totally right that the current state of the video game industry is unsustainable. If Microsoft could facilitate a digital network as affordable and convenient as Steam, it will hurt far less when they rip away our right to borrow video games. And, hell, maybe that will happen.