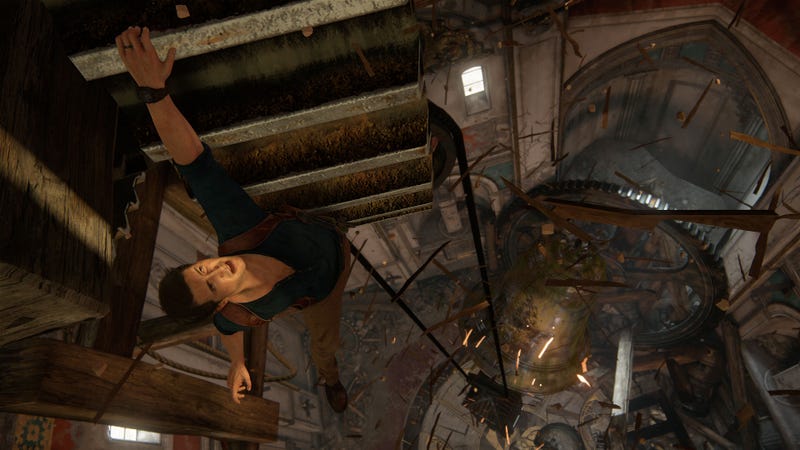 Climbing is difficult. At least it can be. Depending on what you're climbing. Climbing is also technical. Perhaps that's a more useful word. A word that better describes the delicate set of skills required to gracefully scale a rock face, be it a boulder, cliff or full blown mountain. Then there's climbing in video games.
Traditionally video games have struggled with climbing, with the difficulty and expression of technical movement.
It's understandable. Climbing movement is subtle, probably more subtle than any controller could realistically express. And players don't want to be wrestling with decisions like "should I use the drop knee or pull dynamically through this move?" They don't want to be experimenting with toe hooks, heel hooks, gastons and full crimps. They want to move from point A to point B and feel empowered whilst doing it.
But there's a balance there. If climbing is too easy — too effortless – then there's no risk. If there's no risk then there's no reward. And video games, at their best, are in the business of doling out meaningful reward.
It also has to look good. That's more important than you might think. More specifically, it has to visually communicate what's happening in a way that doesn't subvert our suspension of belief. We might not be able to climb the Acre cathedral in Assassin's Creed, but we have to believe that Altair can. And more importantly Altair's movements have to correspond to the movements we make on the controller in meaningful ways.
Otherwise: blergh.
Nathan Drake was never "blergh", but he was never quite Ezio Auditore Da Firenze either. Climbing was always just one component of Uncharted's three pillars (the others being shooting and problem solving) whereas for Assassin's Creed getting the act of climbing correct always seemed like more of a priority.
Another factor: Assassin's Creed is open world and requires a more cohesive system of climbing, one that's applicable to a number of different surfaces, shapes and buildings. Uncharted has always been more linear, and lighter in tone. It could get away with being more fanciful in its depiction of climbing. All moves could be dynamic, holds could crumble, players could swing unrealistically with one arm, grab another falling buddy and yank them up with the strength-to-weight ratio of a buffed-up ant.
But as someone who takes this thing a little too seriously, Uncharted's climbing never quite sat right. Assassin's Creed had me believing this superhuman assassin could float up cathedrals with ease and fluidity, but Nathan Drake – a supposed everyman? His animations didn't quite represent the climbing movement he should have been making.
But now Uncharted 4 is here, and everything has changed.