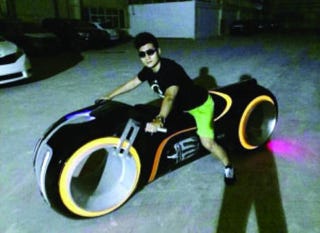 A man in Nanjing, China owns a Tron Light Cycle replica—make that, a Tron Light Cycle he cannot ride on the streets of that city.
According to People's Daily, the man, who is surnamed Yu, said the Tron Light Cycle runs on an electric motor and can hit speeds of around 120 mph on a full charge. People's Daily also reports that it apparently cost US$55,000. Though, it supposedly ended up being a much more costly proposition to get said bike to China.
Hey... this sounds a lot like this Light Cycle replica, which went on sale back in 2011.