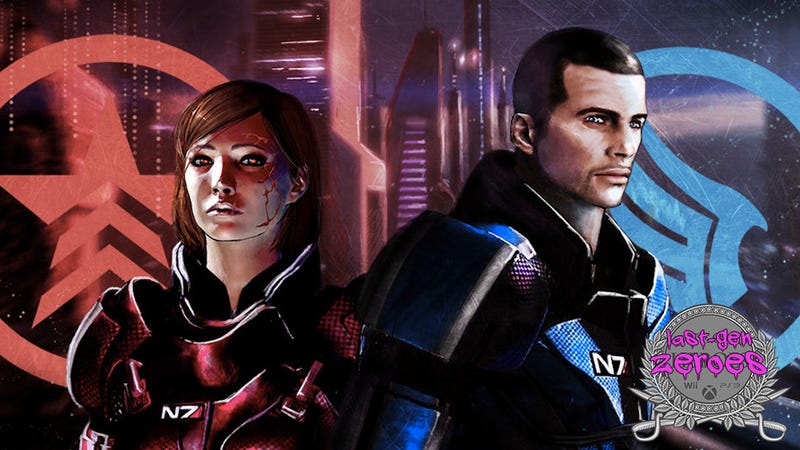 Great characters are usually at their best when they're surprising us. A villain who is purely evil is never as interesting as a villain who sometimes expresses kindness. A killer with a code; a monster with a soft spot for kittens. Yet some video games this past generation just didn't seem to get that—they pushed us to play purely evil or purely good.
[Heads up: This article contains spoilers for the endings of Mass Effect, Mass Effect 3, BioShock, GTA IV and Return of the Jedi.]
Video game morality systems became very popular over the last gaming generation, and with good reason. They're an often fun way to turn the non-game parts of a game—dialogue, and the other bits in between combat—into more of a game. Suddenly, the way you treat that shopkeeper has some consequence. You were a jerk to him! That might come back to bite you.
While some games handled morality in interesting ways, others could often be awfully hamfisted about it. In retrospect, the hammiest fist of all belongs to the binary morality systems exemplified by Mass Effect's paragon/renegade system.
Imagine: At the end of Return of the Jedi, Darth Vader decides to surprise us all. He stands up behind the Emperor, ready to kill him and save his son Luke Skywalker. Oh, but nope, sorry! He actually can't do that. After a lifetime of evil, Mr. Vader doesn't have the paragon points necessary to do such a thing. He's been evil so long that he can only let his son die, then do whiskey shots with Palpatine while kicking the smoldering corpse.
That's how the ending of Jedi would've played out in the Mass Effect universe. In that series, players would score paragon or renegade points by acting virtuously or villainously. The more points they had, the higher their ranking would be. That, it seemed, was all well and good, and a fun way to track your character growth and assign him or her an identity. "I like my paragon infiltrator, but not as much as my renegade vanguard."
But for the majority of its run (though not, notably, in its grand finale) Mass Effect locked off some high-level paragon and renegade dialogue options unless you'd gotten your character to a certain level of goodness or badness. For example, at the end of the first game, a character with a high enough paragon score can talk the villain Saren into killing himself, negating one of the final boss battles. That kind of thing occurred throughout—I was never more frustrated than when my renegade character would find a blocked-off red dialogue option, telling me that Blade Shepard—who was a badass, reporter-punching renegade!—still wasn't badass enough to pursue this particular path.
---
Each time you made a decision that was "out of character," you'd be costing yourself points in your chosen moral specialization and potentially locking yourself out of future conversation options.
---
What was no doubt intended as a way to reward focused players became, over the run of the trilogy, a restrictive set of moral shackles that trained players to role-play a single way. The morality system was telling you that in order to see everything and play the game "right," you would have to role-play your Mass Effect character without any nuance. Each time you made a decision that was out of character, you'd be costing yourself points in your chosen moral specialization and potentially locking yourself out of future content.
Mass Effect's morality problem runs through the core of the entire game. Just last week, Stephen lauded the conflict with Wrex as "The toughest life or death choice in the gaming universe." And I totally agree with him; for most players, it was a really tough choice. It was a bold bit of storytelling, and easily one of the most memorable gaming moments of the last eight years. Yet the first time I played, thanks to BioWare's flawed morality system, it wasn't actually a choice. I had been playing down the moral middle, and as a result didn't have a high enough paragon or renegade score to talk Wrex down. He died, and I didn't even have a chance to save him. I know now that had I completed Wrex's sidequest, there would've been a third way to talk him down, but the fact remains that in Mass Effect, that kind of weird situation happens all the time; the conflict with Wrex is just a particularly memorable example.