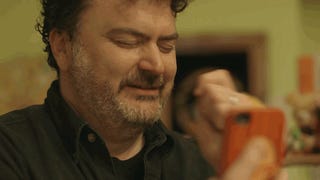 A couple of weeks ago, I sat down with one of video gaming's most creative people to talk about... money. Money. Business. And how things are so different and so much better in this, Tim Schafer's 25th year making video games.
We were at DICE, a gaming convention in Las Vegas. It's really more of a "summit." They actually call it that. DICE happens in a big hotel on the Strip, though it's a relatively small affair. It attracts just a few hundred attendees, not thousands, like the ostensibly similar Game Developers Conference.
Heads of game studios go to it. So do publishing executives. This is where the head of Gearbox plays poker with one of ex-heads of BioWare, where a Ubisoft studio chief or the inventor of the Oculus Rift will give a talk about whichever important part of the game industry they run. Go into the lounge and you'll see Warren Spector is hanging out over in the corner.
"When I used to come to a show like this, I'd be like, 'Ok, I've got to network, I've got to meet people, I've got to shake hands," Schafer told me when we took a seat in a quieter part of this year's venue, the Hard Rock Hotel & Casino. "I felt like I had to do that for my survival.'"
---
Schafer: "When I used to come to shows like this, I'd be like, 'Ok, I've got to network, I've got to meet people... I felt like I had to do that for my survival."
---
A guy sits down at your lunch table and starts talking about the summit. It turns out he runs a massive middleware company.
The head of PlayStation worldwide studios chats with folks not that many feet from where the Microsoft people are having their own conversations. Off in hotel suites, developers show publishers games. At this year's DICE, one tired developer I ran into said he'd run his demo through more than 30 times in two days.
Then the Kickstarter happened—the one Schafer launched after he landed in Las Vegas for DICE two years ago, the one where he asked for $400,000 to make a traditional adventure game like he'd been making for decades and people gave him $3.3 million instead.
Something else important happened recently, too: Double Fine stopped relying on game publishers and switched to publishing its own latest, biggest games.
"Now I come here and I'm just enjoying seeing my friends from the industry and talking about deals and stuff, but it's not like—because we have multiple projects—it's not like we have to sign a game in the next three months or we're going to die."
That's good news, everyone.
That's good news that a studio that so many people root for sounds like it's no longer on the brink.
---
For a long time Tim Schafer's storyline was this: creative guy, made cool adventure games such as The Secret of Monkey Island, Grim Fandango and Full Throttle with talented colleagues at LucasArts, started his own studio called Double Fine, made the beloved Psychonauts, the less beloved Brutal Legend and just sort of hung on since those games just didn't sell.
Double Fine did what so many independent studios had done, especially on consoles and even on PC. They went to the EAs and the Activisions, the Microsofts, the THQs, and so on. They went to publishers to get financing for their games. This was the process. It sounds fine in theory, miserable in practice. Schafer walked me through it:
"The old model is you pitch a game, you try to get as much money for it as you can for development. You set aside some money in that budget for the time in between.
"You either go late or it takes longer than that to sign your next game. And so you use up all that money. And then you're back to zero.
"You have to take the next publishing deal that you can get. And they're like, 'Well, it's got really terrible terms,' and we're like, 'We'll take it, we'll take it,' just to stay in business. We don't want to miss payroll. So we take it—and that one is the bad deal, which has terrible recoup terms—and [they] take our [intellectual property] or something. But, at the end of it, we're back to zero again.
"You never really go anywhere unless you have a huge, huge breakout hit, which is very unusual, and you can't really bank on that happening. It was like an airplane flight where you would have long periods of smooth sailing and then absolute terror at the beginning and end, and we were like, 'Oh my god how are we going to sign our next game?'"
Not that I missed the value of what he was saying, but I had to interrupt. I had to ask Schafer if he was afraid of flying or something. What kind of flights was he flying that were this terrifying?
He laughed. "That's what they say it's like for pilots: a whole lot of stress at the beginning and end and a whole lot of boredom in between."
Not that making games is boredom. But, yeah, I got his drift.
---
I told Schafer what I thought his storyline was. I told him that Brutal Legend and Psychonauts didn't seem like the successes they needed to keep running and that the Kickstarter that birthed the just-released Broken Age saved them.