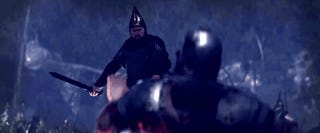 Ever notice how violent video games are? Wonderful! Terrible! Your call, but hey, it's a thing.
So here at Kotaku, I figure, why not show just how extreme games get? Better than pretending it doesn't exist or keeping it all hidden like we're embarrassed, I say. Often violence in games is pretty fun. Not that it's always pretty.
What better way to kick off This Week In Video Game Hyper-Violence than with the newly-released Blood & Gore downloadable add-on for Total War: Rome II.