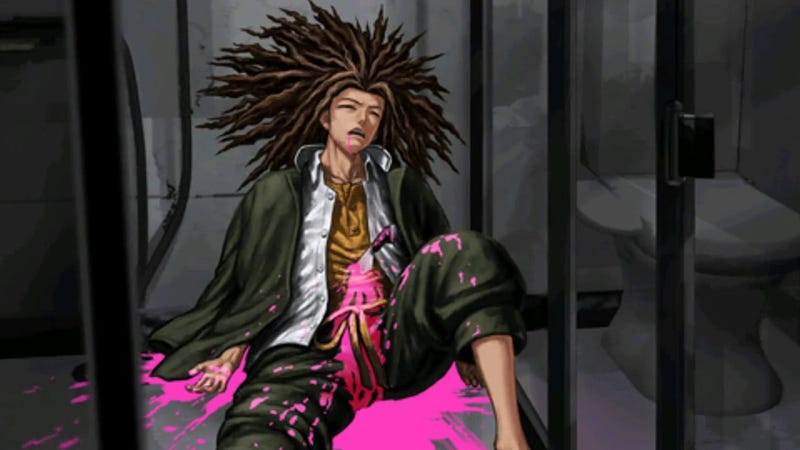 As I was watching Danganronpa: The Animation for my look at the five anime you should be watching this summer, I realized two things: 1) that I really wanted to play the game and 2) the anime was going to take all the fun out of it by spoiling every single mystery. So I immediately went out and grabbed the game for myself.
And I am glad I did. Because Danganronpa: Trigger Happy Havoc mixes the great courtroom battles of Ace Attorney with the compelling mysteries of Zero Escape in a way that makes the anime version seem little more than a pale imitation of the game.
Good – A Deep, Involved Mystery
On his first day at Hope's Peak Academy, the most prestigious high school in all of Japan, freshman Makoto Naegi is knocked out only to awaken trapped in a twisted version of the school. Worse yet, the only way to escape is to murder one of his 14 fellow classmates and get away with it. Of course, the same conditions for escape apply to all his classmates as well.
What follows is a series of twisted and complex murders surrounded by the even greater mystery of what happened to the school, why they have all been chosen to compete in this death game, and who is the mastermind behind it all.
Good – Active and Exciting Courtroom Battles
The game itself follows a pattern similar to the Ace Attorney series. When a murder occurs, Naegi gathers evidence from the various crime scenes and interviews witnesses as he tries to figure out the murderer.
Then the remaining students have a "class trial." However, as there are no lawyers, it is a chaotic free-for-all conversation with a time limit—forcing the player to think as quickly and creatively as possible. The courtroom gameplay is largely comprised of sections where you "shoot" down your opponents' arguments with evidence "bullets"; but there are several other mini-games as well that keep everything feeling tense and fresh.