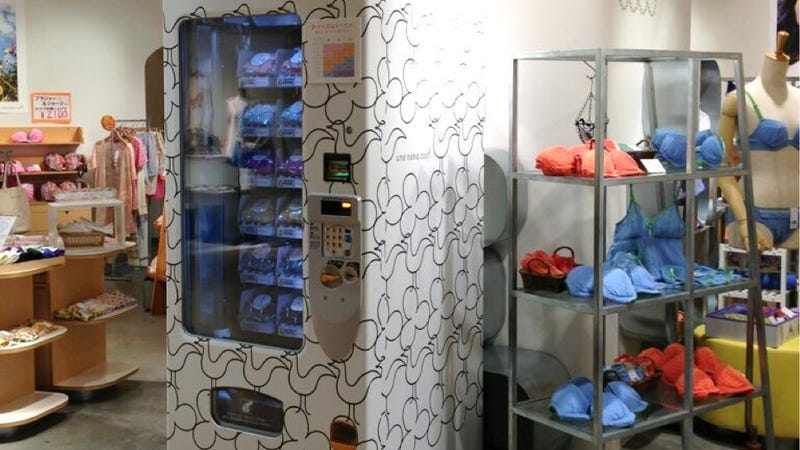 Over the years, Japan has seen an array of interesting and unusual vending machines. And recently, a brassiere dispensing one debuted in Tokyo.
Last Friday, Japanese lingerie maker Wacoal rolled out a bra vending machine at its Une Nana Cool branded specialty shop in Shibuya. The vending machine is packed with the popular wireless "Fun Fun Week" bras.
There's a size chart on the machine for the colorful undergarments, which are priced at 2,940 yen (US$30).
Customers pony up the cash and punch in the item number.
And within seconds, they are the proud owner of a vending machine bra. Congrats!
The shop's manager told Tokyo MX, "The vending machine's strength is that you can quickly look at the size chart and buy." Tokyo MX also pointed out that one of the vending machine's merits was that customers didn't have to tell shop staff their size. Heck, they don't even have to talk to shop staff—well, unless the vending machine eats their money.
On GirlsChannel, a site aimed at Japanese women, many thought the idea of buying a bra via a vending machine seemed rather strange. "Purchasing one without trying it on would be somewhat impossible (for me)," wrote one commenter. Others said it seemed "embarrassing" or even "dodgy."
"An old man probably came up with this idea," wrote another commenter. Others suggested that it was ideal for male customers who liked to wear women's underwear. Elsewhere online, there were the inevitable jokes asking if the bras were new, and there were requests for Japan's somewhat mythic panty vending machines.