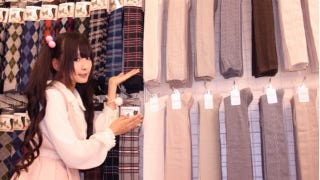 Next month, a store dedicated to thigh-high socks is opening in Tokyo's geek district, Akihabara. That's right, only thigh-high socks.
Website Radio Kaikan reports that the shop is called "Zettai Ryoiki" (絶対領域) and opens on February 8. That's "Knee-High Day," an unofficial holiday and a Japanese pun on "two" (二 or "ni") and "eight" (八 or "hachi").
The term "zettai ryoiki" literally means "absolute territory," but is a geek term for the area of exposed flesh between high socks and a hemline. This type of leg wear often appears in anime, manga, and video games.