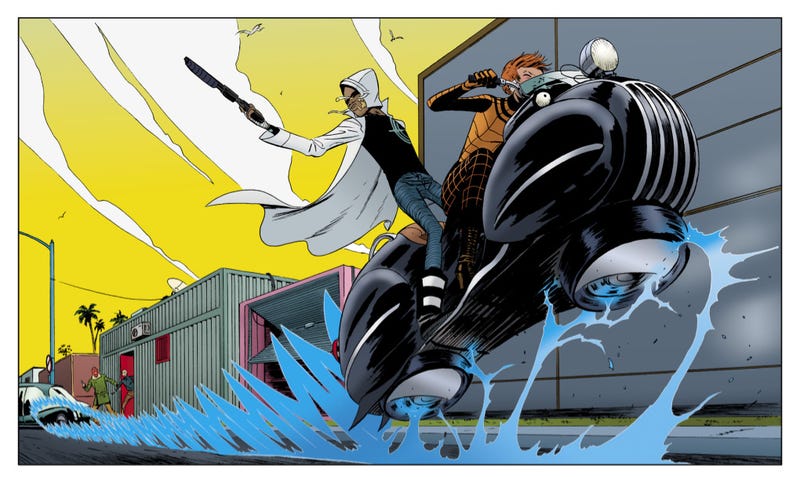 The man who wrote Y the Last Man. The guy who drew incredible runs on Amazing Spider-Man and Batgirl: Year One. In 2013, they launched The Private Eye, a provocative sci-fi series set in a future without the internet. It just ended a few weeks ago, and you really should read it.
If you need extra incentive to read great work by a team of some of modern comics' best creators, consider this: you can get the whole run for as little as $10. Heck, you don't have to pay for any of it if you don't want. But you really should.
This post originally ran on 3/31/15. We're bumping it because The Private Eye is out in a snazzy new print edition.
Warning: Spoilers follow for the plot of The Private Eye.
A world without any internet access probably sounds like a nightmare to most of us living in the year 2015. But it's the lack of persistent virtual connectivity that makes the setting for The Private Eye so compelling. The series' action happens in the Los Angeles of 2076, decades after a network catastrophe called the Cloud Burst unleashed a Flood of everyone's once-private personal information out into the world.
Journalism is now a law-enforcement function, carried out by uniformed and plainclothes government officers who report and publish the official version of events. The comics' main character goes by the moniker P.I. and, after accepting a case to investigate a woman's background, gets pulled into a conspiracy to bring back the internet.
The Private Eye is a digital comic. There is no print version. For a comic set in a world where personal computing as we know it pretty much disappears, there's a bit of irony to TPE's pay-what-you-want, digitally-distributed, DRM-free business model. After all, The Private Eye wouldn't be possible if not for the internet. The world wide web connects the L.A.-residing Vaughan to the Barcelona-based Martin and provides the fodder for the series' subtext. It's also formatted to be read in a widescreen, tablet-friendly format, too. Vaughan and Martin have repeatedly said that they don't have plans to take The Private Eye to print and its horizontal presentation is probably a big reason why. This thing was built to live on the 'net.