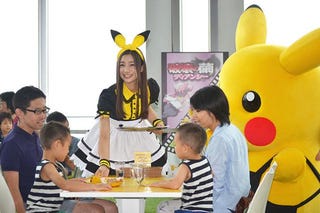 Considering how popular maid cafes are in Tokyo's gaming district, it shouldn't be a surprise that the Pikachu Cafe got a maid outfit of its own—temporarily, at least!
That's celebrity Rika Adachi working as a maid and restaurant manager in a special event held at the cafe. According to Inside Games, this is the first part-time job she's ever had! And since it was a one-day-only job, the gig puts new meaning into part-time.
Yes, more than anything, this is simply a photo op. I don't think Adachi spent the entire day taking orders and bringing people Pikachu Burgers.