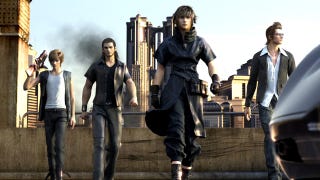 It's official: next-gen is now current-gen. We've got a whole new generation of video games to complain about, and two brand new consoles with zero JRPGs to play on them.
Yeah, that's a thing. If you've followed next-gen mania at all, you've probably noticed the serious lack of Japanese role-playing games. I've been keeping a count on Twitter. The results are depressing.
Here's a complete list of currently-announced JRPGs for PS4 and Xbox One in North America:
Final Fantasy XV
Kingdom Hearts III
That's it. The whole list. And short of a few smaller, cross-gen, JRPGish games that will get PS4 ports like Child of Light and Pier Solar, our shiny new consoles won't have much in the way of turn-based action.
Yes, we've got time. More announcements could be coming. But as the world gets hyped over the next generation of video games—look at those graphics! so immersive! so visceral!—I'm starting to worry that there's not going to be a whole lot on these consoles for people who want that JRPG feel.
This apparently-dismal next-gen JRPG future has been in the cards for a while now—Japan has gone mobile. They've gone portable. They've embraced a future of free-to-play gaming filled with businessmen who salivate over buzzwords like "monetization" and "in-app purchases." Long gone are the days of high-end console RPGs that try interesting things: your Rogue Galaxys, your Xenosagas, your Dark Clouds. Beloved franchises like Breath of Fire and Mana have been thrown to the dregs of "social" gaming—a phrase that has become scarier than ever in 2013.