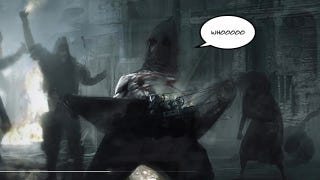 Most of the time video game loading screens keep it pretty chill. They show some art, maybe share a helpful tip or two. Sometimes they're just a black screen and a spinning wheel. But sometimes... sometimes, video game loading screens go crazy in the best possible way.
Minor spoilers for Thief follow.
I didn't think much of Thief, but some of its loading screens are outstanding. As the game's story progresses, things begin to deteriorate in The City, which is the name of the city where the game takes place. The strife is rarely really seen in the game itself, but the story events all hint at a town gone to riot and ruin.