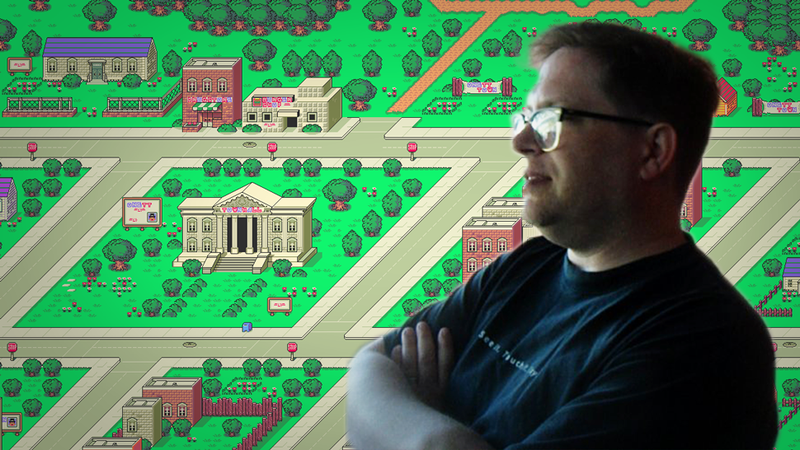 A few weeks ago, Marcus Lindblom logged onto TwitchTV. He found someone playing Earthbound, and he watched them stream for a while. Every time they smiled in the right place or laughed at the right joke, he felt a jolt of vindication. Validation. Eighteen years later, he could finally see people enjoying his work.
This piece originally appeared 8/23/13. We've bumped it up in honor of Earthbound's release on the Virtual Console for New 3DS today.
In 1995, Earthbound was a dud. Critics panned it—"nauseatingly cheery," wrote one reviewer—and sales were disappointing thanks to a bizarre marketing campaign and graphics too cartoonish for many American gamers' tastes at the time.
When Lindblom, who spent a grueling four months writing the English text for almost all of the quirky role-playing game, saw the reviews and sales figures, he was crushed.
"It was pretty difficult in some ways for those of us that had been involved," Lindblom told me during a recent phone chat. "I guess the feeling at that time was—and this is not a lot different than today—graphics were a big important component to pushing forward the game industry. And a lot of people looked at Earthbound and considered the graphics to be fairly simplistic."
But over the past few years, something unlikely happened: People who had grown up with Earthbound began to tell their friends how charming it was. Buzz began to build. And gradually, Nintendo's quirky RPG became a cult classic.
On July 18, Nintendo re-released Earthbound in North America. For the first time in almost two decades, Lindblom could directly watch people enjoy what he'd done. It no longer felt like a failure.
---
Like many in the gaming industry, Marcus Lindblom accidentally fell into what would become a career-launching gig. Raised to a traditional, middle-class family—"It was almost an Earthboundy kind of upbringing," he told me—Lindblom got bored during his college days and dropped out, marrying a woman and moving to Japan for what they thought would be a few months. It turned into four years.
In 1990, Lindblom and his wife came back to America, and he went back to school. He took a job at a Nintendo call center because it fit into his schedule; he could get up at 4am and work for a few hours every day before class, a process he describes as energizing. He'd go into Nintendo's offices in Redmond, Washington, where he'd work customer service and field calls from people desperate to get through difficult chunks of Mario and Zelda games.