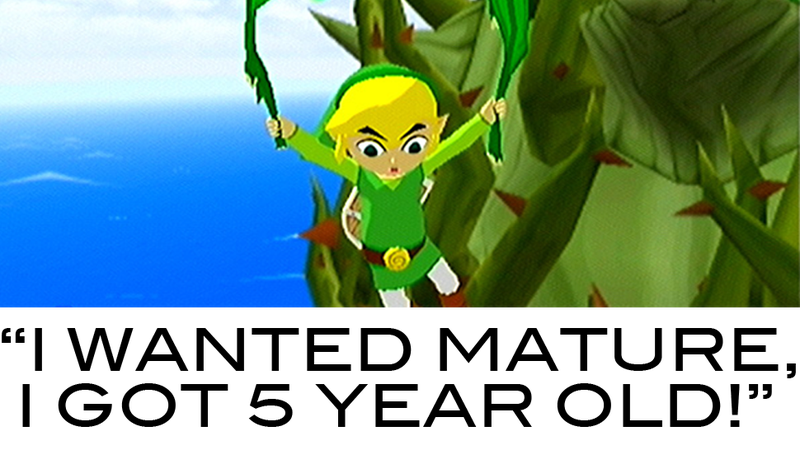 The average person over the age of 13 can no longer proudly stand by all the opinions they expressed 12 years ago. In time, a person simply decides that dirt no longer tastes good. Later, one regrets the pants they wore in middle school or, further into life, feels some shame when recalling the thing they said in anger to their spouse.
A dozen years ago, much of the gaming Internet hated the graphics of The Legend of Zelda: The Wind Waker.
Reminder, this is what Zelda looked like back then....
A dozen years later, on the occasion of the release of the game's HD Wii U remake, let us laugh at how so many of us hated this beautiful thing when they first saw it (the original spelling and grammar of these mournful missives has been left intact)...
WHAT THE HELL WAS NINTENDO THINKING ?

This Has Too Be some kind of joke ? maybe its all a dream and when i wake up in the morning it will be all good ?
---
I can't beleive what they di dto that Zelda game, just when I was saying that nintendo caters to old school gamers, they go and make zelda look like a frigging puppet show for 5 year olds.
---
why why why

what have they done i fell so sad now thats not the joy i was wanting why why why.

where is the game that i think is a real world where is my mature zelda this just at right

*craws under a rock and dies*
---
FOR GOD'S SAKE PEOPLE HE LOOKS LIKE A REJECT FROM HEY ARNOLD OR A SIMILARLY BADLY ANIMATED PROGRAM. I WANTED MATURE, I GOT 5 YEAR OLD!
---
Dont worry people Heres a list of things that might make you fell better
•Theres plenty of time to change the look of link (which is my major problem)
•Im certain there will be another 'mature' zelda (They didnt make those spaceworld 2000 models for no reason- believe me)
•If its Ocarina style that you love then you should now set your eyes apon Dinosaur Planet (cause that games gonna Kick Zelda up the arse)

Im in huge shock over those Zelda pics. Ahhhhhh. im pulling my hair out!!. Why why why why why. I was SO excited over the old footage. it was the number one reason i wanted a gamecube. Im not worried about the graphic quality in a game that much but i hate the design of link. it sucks. sure the gameplay might rule. but but what am i saying. im falling apart - mental breakdown.

i think there will be a few suicides within the next 24 hours. not to mention death threats to that fuck face that designed that game.!!

PS im in a bad stait and may regtret those last statements. bye bye. time to run around outside like a mad man.
---
I got it.. this thing looks like Monkey Island 3...
---
OMG!!!! WTF HAPPENED?!?!?!?! Zelda looks like a little weak sissy bitch!! I just saw the movie/pics like 2 mins ago and what a pile of stinking crap! Fvck this.

EDIT: I'm not a xbox fanboy who created a new account to flame GC, my other account "migy" got banned accidentaly.
---
All of the above comments are from an August 23, 2001 "Official Zelda Bitch Thread" that ran on the message boards for giant gaming site IGN as a forum mod attempted to contain a wildfire of Internet fan rage. Vocal Nintendo fans had just seen screenshots or video of the then-upcoming Zelda that had been piped by outlets like IGN from Nintendo's Space World showcase in Japan.
What they saw was this:
What they had seen a year before from Space World 2000 was this:
Many Nintendo fans wanted that 2000 Zelda. They wanted it really, really badly. They wanted it, in large part, because they wanted Nintendo to seem cool. That was always the knock on Nintendo, first by Sega, then by Sony and then, in the summer of 2001 with the Xbox and Halo waiting around the bend, by Microsoft. Nintendo just wasn't as cool as them, or so the anxiety went. Maybe it wasn't cool to own a Nintendo console anymore.
PlayStation 2 was getting a gritty new Metal Gear Solid and increasingly realistically-modeled Final Fantasy games. And what was the Nintendo GameCube getting? Something called Super Mario Sunshine, for god's sake. (One IGN user had complained: "I'm deeply reconsidering my purchase of the cube now, considering another bumble of a move on Nintendo's part, FF 10 is looking better each day.")
The Xbox was a mean-looking black behemoth of a game console. The GameCube was a purple cube... with a handle.
If you were a certain kind of Nintendo fan back then, the revelation that 2000 Zelda was being replaced by 2001 Cel-Da was about as awesome a development as your mom giving you some new foot-pajamas in front of your prom date.