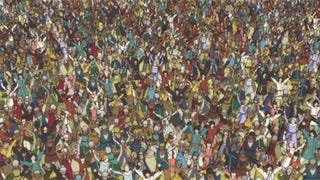 Okay, I'll admit it. I haven't found Waldo (née "Wally") in this image. So, he might not even be in the above GIF. That shouldn't stop you from searching.
And if you do, have a look at the slightly sharper version of the above GIF down below. The animated image recently appeared on 2ch, Japan's largest bulletin board, with the title "Where's Waldo? Level 99999999999999999999999999999999999999".
Animated Waldo GIFs do seem to be increasingly popular. For example, another Where's Waldo GIF, created by Redditor Swiftapple, took the internet by storm last month.