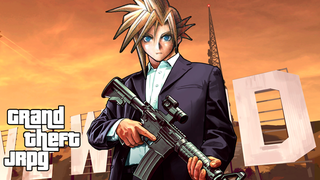 I've been playing a lot of Threes lately—to the point where every time I close my eyes I just see numbers sliding together—and all I can think is that it'd make for the perfect JRPG mini-game.
Can't you picture it? You're roaming around the map, saving the world or whatever, when suddenly this sketchy dude in a wizard's robe comes up and challenges you to a game of sliding number tiles. If you hit 1,000 points, you get an elixir. 10,000 points for special armor. 20,000 points to unlock your character's best ability. It'd be the greatest RPG mini-game since Triple Triad. Really, all video games should come with a copy of Threes. Sure beats racing chocobos. (If you haven't played Threes yet, be warned that it will take over your spare time, because it is addictive and polished and perfect in every way.)
Anyway, today I've got a special treat for you guys. Welcome to Random Encounters, where we sometimes have mailbags and this is one of them. (If you'd like to send in questions for a future Q&A, e-mail me at jason@kotaku.com with the subject "Random Encounters.")
On to the questions:
After seeing GTA V bring in umpteen-bajillion dollars in its first 3 days, I got to wondering. What would it take for an RPG to open to those kind of numbers? I can't think of any recently released RPG to hit anywhere even close to that. I don't think Mass Effect 3 has made that much money to date (total), and certainly not within its first three days (before everyone found out about the shit ending). Not even Skyrim did that well (again, compared to GTA V). Is there a game release I'm forgetting? Or is it even possible for an RPG, even an extremely hyped one, to pull in that kind of opening weekend cash? —Scott C
Drugs? Hookers? The thing about massive popularity is that it's almost impossible to emulate. Gaming trends always come in cycles. Back in the early 2000s, after Grand Theft Auto III became a smash hit and every game publisher in the world rushed to release their own gritty open-world game, the video game industry learned that not every open-world game will make money. Then came the failed rush to clone World of Warcraft, the ugly Facebook trend started by FarmVille, and now today's big fad is free-to-play, which will inevitably be replaced by whatever next Big Thing comes along soon.
Point is, nobody really knows how to make something big. Nintendo, a multi-billion-dollar corporation staffed by some of the smartest people on the planet, couldn't figure out how to replicate the Wii's success. Even Call of Duty, one of the biggest franchises in video game history, is on the downswing. People knew that GTA V would do well, but I suspect even Rockstar didn't expect it to make $1 billion in three days. To paraphrase Socrates: Nobody knows shit.
So let me answer your question... to find GTA-level success, an RPG would either have to A) somehow catch lightning in a bottle, like Minecraft or Flappy Bird, appealing beyond the hardcore gamer crowd and morphing into a pop culture sensation; or B) allow you to steal cars and murder prostitutes. Nobody knows how to pull off A, so maybe some RPG developer should try for B. Really, though, wouldn't you want to see a gritty, dark open-world RPG that crosses turn-based combat with a city like Los Santos? GTA: Midgar. Let's make it happen.
Hey Jason,

First I'd like to say I'm a big fan of your column. I like that in this age, when 99% of the western gaming press likes to bash JRPGs, there is a writer who stands up and says, "hey, assholes! I like those games!" My question was about this picture I see on the web quite often. Someone took a photo of Skyrim, photoshopped it so the dragon looked like Charizard, and the hero looked like a Pokémon trainer. On the picture is a caption which reads, "I hope to one day play Pokémon with graphics like Skyrim." Whenever I see that photo, I'm just baffled. Why would we want our Pokémon to become these weird photorealistic creatures? Pokémon should be colorful and cartoony! What do you think about this whole idea? Do you think there would be any benefit to a hyper-realistic Pokégame? Or, do you like the artistic direction they're going about now? —Kevin S.
We could never have a realistic Pokémon game for two reasons:
1) Nintendo would never risk tarnishing a kid-friendly IP by exposing it to the cruelty of reality.
2) Pokémon's cartoony graphics mask the harsh truth that the world of Pokémon is really fucked up. If Pokémon were more realistic, we'd have to stop closing our eyes to the fact that this is a world where animal trainers spend their time standing around on roads and waiting to have cockfights with other animal trainers. We'd have to accept the fact that humans regularly force Pokémon to harm one another out of some twisted hunger for competition. Remember, everyone in Pokémon is so mentally deficient that even the professor—a professor!—has to ask what gender you are. He can't tell. Nothing in the world of Pokémon makes sense. Nobody talks about anything but Pokémon. This only works because the graphics are cute.