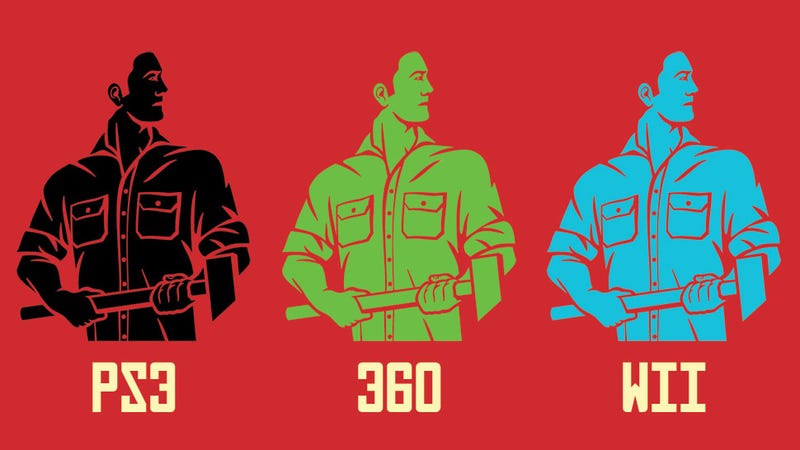 Eight years. Eight long years of video games, from the Xbox 360's 2005 release to today, the dawn of the next generation. A lot of games came out in eight years.
Looking back to 2005, it's difficult to believe how much has changed. Not just in video games, of course, but in the world and the ways we interact with it. We were so much younger then, our games so much simpler. Facebook was in its infancy, YouTube had only just been created. Netflix was still known only for delivering DVDs by mail. The iPhone wouldn't come out for another two years.
The world of gaming changed so much over that time, and some games drove that change more than others. There were a handful that defined the generation, both for good and occasionally for ill. To close out our Last-Gen Heroes series, I polled our entire staff and we collected those games here.
Most games are on this list for positive reasons; they became definitive purely through their high quality. A few are here for negative reasons. With a few, it's more complicated. But all of these games are, or were, undeniable for their time.
Ready? Here we go. In no particular order, the games that defined the last generation of console gaming:
Mass Effect 2
The Mass Effect series was easily one of the most influential and iconic of the last generation. Of the three games, it was perhaps Mass Effect 2 that made the biggest impression. The rough edges and janky combat of the first game were replaced by punchy, functioning third-person combat. The overarching story may have been the weakest of the trilogy, but the individual loyalty missions were some of the most enjoyable parts of Mass Effect as a whole. Hell, we've already done an entire week dedicated to Mass Effect, so I needn't really say more. While there are some who prefer the first game in some ways (I'm one of them), the fact remains that Mass Effect 2 was the moment the series broke through.
Braid
Jonathan Blow's phenomenally successful puzzle platformer set a couple of new standards for video games. It was one of if not the first mainstream "art" games, a thoughtful piece of work as concerned with introspection as it was with on-screen action. It had something to say and, crucially, said it through actual gameplay: Braid's time-rewinding mechanics were reflected in the story of Tim and his quest to rewind time and repair a broken relationship. For better or for worse, it heralded the age of the "arty 2D platformer," which on the whole provided a relatively easy-to-use canvas for creative independent developers to try new ideas. And of course, Braid introduced the world to Mr. Blow, who remains one of the sharpest, most outspoken game creators around.
Metal Gear Solid 4: Guns of the Patriots
Hideo Kojima's sprawling (and some would say overstuffed) opus Metal Gear Solid 4: Guns of the Patriots felt like it rang in the moment the PlayStation 3 "arrived." Here was a game, exclusive to Sony's console, that finally showed off what that extra horsepower, hard-drive space and blu-ray player were capable of. The game remains (and will remain) in the library of many a PS3 owner, and while other console-defining games would follow it, MGS4 remains one of the first major steps in the PS3's eventual comeback.
Speaking of the PS3…
Uncharted 2: Among Thieves
The first Uncharted game, Drake's Fortune, got some people talking about the PS3. (I remember a former student of mine talking about how Drake's shirt only got partially wet when he only partially went underwater). But it wasn't until Uncharted 2 that people started saying, "Okay, you have to see this game." Uncharted 2 was the game that finally got me to buy a PS3. I'm guessing I wasn't the only one. Those vistas, those setpieces, that amazing train level… Naughty Dog would go on to make The Last of Us, one of the great action games of the generation, but Uncharted 2 remains their defining game. (It was also less well-remembered for its early stab at social media integration: The game initially included annoying Twitter functionality that its developers eventually turned off.) Uncharted 2's many smart ideas—no loading screens, semi-interactive setpieces, upside-down shooting, and on and on—have and will continue, to echo.
Wii Sports
The Wii was banking on a single gamble: That people wanted to play simple games using natural motions, rather than complicated button combinations. Any concept like that needs a game to sell it, and Wii Sports did just that. Without the Wii, Wii Sports would have been a regular old combination of sports minigames. Without Wii Sports, the Wii would have been an odd Nintendo console with no proof-of-concept games. Together, Wii Sports and the Wii managed to dominate the last generation of console gaming. And… yeah, you can also thank Wii Sports for the millions of mini-game collections that followed it, not one of them half as good.
Demon's Souls
It started as a collection of murmurs—people talking about this game, this new game, and boy wasn't it hard? But man it was good, but WOW it was hard, and it really took them back to what games used to be like, when we were young, only it was better and oh man did I mention how hard it was? I spent a long while terrified of From Software's Demon's Souls, but when I finally played and embraced it, I found a game that wasn't so much hard as it was… well, brilliant. Demon's Souls paved the way for its follow-up Dark Souls, which fleshed out its predecessor's core concepts while adding some new ideas and more or less perfecting an already-great recipe. There's a reason that so many upcoming games are described as "It's like Dark Souls meets [other game]". The Souls games may be the purest gaming experiences of the last generation, and demonstrated that there are some who still want mystery and true challenge in their games. From the unexpected, seamless multiplayer to the extreme but fair challenge to the oddly affecting, asynchronous note-leaving, Demon's Souls and Dark Souls were easily two of the most influential—and well-made—games of the last generation.
Portal
"The cake is a lie." Is there any one phrase from the last generation of gaming as tired, overused but nonetheless iconic as that? Probably not. Portal came out of nowhere, a short, bundled game included in Valve's The Orange Box along with Half Life 2: Episode 2 and Team Fortress 2. Even among such heady company, Portal stood out. GLaDOS immediately sailed past SHODAN to the top of every "best villains" list on the internet, and the portal gun was immediately recognized as one of the most brilliant mechanical concepts of the last eight years. It's no coincidence it's been mimicked and outright copied in scores of games since. Portal was perhaps the best thing in the smallest package of the last generation.
Call of Duty 4: Modern Warfare
Where to even begin with the impact of Modern Warfare? It's probably the most influential game on this list. The multiplayer suite added persistent RPG elements to keep players addicted… and now just about every other multiplayer shooter does the same thing. The single-player contained scenes that have been mimicked, copied and stolen by every other military shooter since, sometimes even by other Call of Duty games. Everything about Modern Warfare has been replicated so many times over that it's become a blight on modern gaming; Call of Duty is so popular as to be ubiquitous. Its sequels have, arguably, lost their creative mojo. But for its moment in time, the originator—Modern Warfare—was pretty damned good.