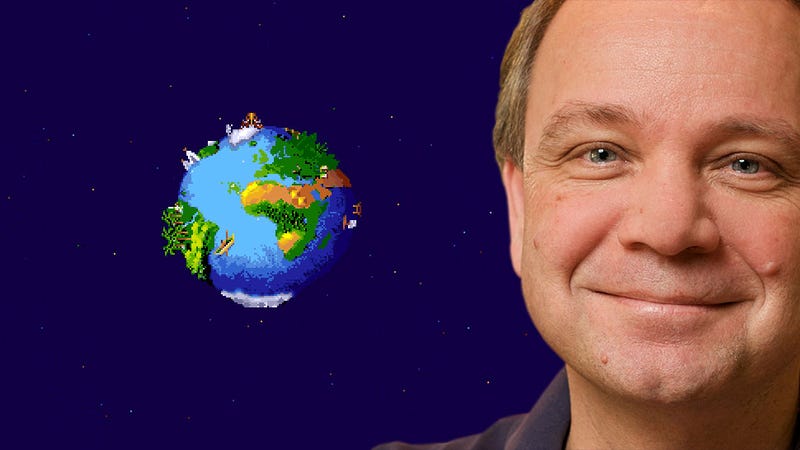 Before Sid Meier was Sid Meier—the iconic video game designer whose name is stamped on classic titles like Pirates! and Civilization—he was just another computer hacker.
In the early 80s, the then-20-something programmer had a job at a company called General Instruments Corporation, where he worked alongside a gruff Air Force pilot-turned-businessman named John "Wild Bill" Stealey. Meier, who had graduated with a degree in computer science before there was a personal computer in every home, spent his spare time reading hacker magazines, fiddling with code on his Atari, and building his own versions of arcade games like Space Invaders and Pac-Man. At one point he made a space game and put it up on his office network; it hooked so many employees that his bosses forced him to take it down.
One year, as Stealey recalls, the two men went to an electronics trade conference. On the second night of the show, they stumbled upon a bunch of arcade games in a basement. One by one, Meier beat Stealey at each of them. Then they found Atari's Red Baron, a squiggly flight game in which you'd steer a biplane through abstract outlines of terrain and obstacles. Stealey, the Air Force man, knew he could win at this one. He sat down at the machine and shot his way to 75,000 points, ranking number three on the arcade's leaderboard. Not bad.
Then Meier went up. He scored 150,000 points.
"I was really torqued," Stealey says today. This guy outflew an Air Force pilot? He turned to the programmer. "Sid, how did you do that?"
"Well," Meier said. "While you were playing, I memorized the algorithms."
---
A great video game, Sid Meier likes to say, is a series of interesting decisions: a set of situations in which the player is constantly confronted with meaningful choices. It's an ethos that has served him well: the majority of Meier's games are critically and commercially acclaimed. A 2009 Develop survey asked some 9,000 game makers their "ultimate development hero"—Meier came in fifth. (First was Mario creator Shigeru Miyamoto.)
Meier's games are all full of interesting decisions, and they're always totally different. There's the open-world pirate adventure game; the real-time strategy game set during the Battle of Gettysburg; the simulation game about railroad management. Meier's most recent release, Ace Patrol, is a top-down strategy game in which you maneuver fighter pilots to take down targets across the battlefields of World War I.
And then there's Civilization.
In a world full of eight-figure budgets and ambitious video game cinematics, the 20-year-old Civilization's scope is impressive even today. Some games put players in charge of people, cities, or armies; Civilization put them in charge of world history. You'd pick a nation—Americans, Romans, English, and so forth—and guide them from 4000 BC to the modern age, year by year. Every turn, you could move your people across a 2D map of the world, build settlements and cities, engage in diplomacy with rival countries, research new technology, irrigate land, and wage war.
This formula has spawned five main games, several spinoffs (including the North America-focused Colonization and the sci-fi epic Alpha Centauri), and tons of expansion packs. It's also made "Sid Meier" a gaming household name: the official title for Civilization is not Civilization; it is Sid Meier's Civilization. The title implies ownership, arrogance, cockiness. It would be easy to conclude, then, that the father of PC strategy games is a man with an ego—the type of man who would put his name on every game he makes.
But Meier is amiable and soft-spoken, a friendly man who colleagues call brilliant, unassuming, and humble. "In the [13] years and all the people I've worked with at Firaxis," said fellow designer and close confidant Jake Solomon, "there has never been anyone who's had a personality issue with Sid, 'cause it's not possible. He's such a wonderful person."
Last month, I met the legendary designer in a chilly meeting room in Manhattan's Union Square. Meier was genial and energetic, with a warm smile and a dark grey cardigan. He was accompanied, as always, by his wife, Susan, who occasionally chimed in to help him remember important facts, or moments he's forgotten. We talked about his games, his history, his triumphs and regrets.
A devout Christian, Meier loves music and plays organ for his church in Baltimore, Maryland, where he and Susan live. His job title at Firaxis, the studio he helped found, is "Director of Creative Development," which essentially means he can do whatever he wants. Sometimes that means working on his own games; other times it means offering his considerable design acumen to other people at the company and helping out on projects like XCOM, the sci-fi strategy game helmed by Solomon.
"You can always drop in—his door's always wide open," said Solomon. "Anybody can stop in and talk to him about anything... he's incredibly welcoming. He spends a lot of his time working. If you come in on the weekend, there's a fair chance that Sid's car's in the parking lot, and he's in the office working on his latest idea."
---
Solomon: "If you come in on the weekend, there's a fair chance that Sid's car's in the parking lot, and he's in the office working on his latest idea."
---
I asked Meier, who is 59, if he ever thinks about retirement. "I kinda feel like I am retired," he said, laughing. "I'm doing what I wanna do—I've been retired for a long time. I still love making games, so I've really never thought of that."
That's good news for video game fans: Meier has a knack for making strategy games that are fiendishly addictive and consistently delightful. He's fascinated by history, and he is particularly good at turning events that would seem quaint, dull, or old-fashioned to your average game player—like the battle of Gettysburg or a World War I air skirmish—into accessible interactive entertainment.