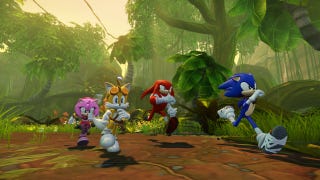 About three weeks ago in a hotel in Los Angeles, I got to play four levels of the upcoming Sonic Boom. It felt like good family fun: fairly easy combat, some trickier platforming, and a little bit of that iconic Sonic speedrunning through rings.
You can watch Game Front's footage of what I played on Wii U here:
But when I sat down with developer Big Red Button's CEO and creative director, Bob Rafei, I was more interested to discuss the main attraction: the blue hedgehog many of us have probably been raised with.
There were strong reactions that came out of Sonic Boom's first public showing. Sonic was called a hipster for his long, skinny new legs and seemingly random handkerchief. So what was the reasoning behind this new look? And what did the team behind it think about all of that excitement around the announcement?