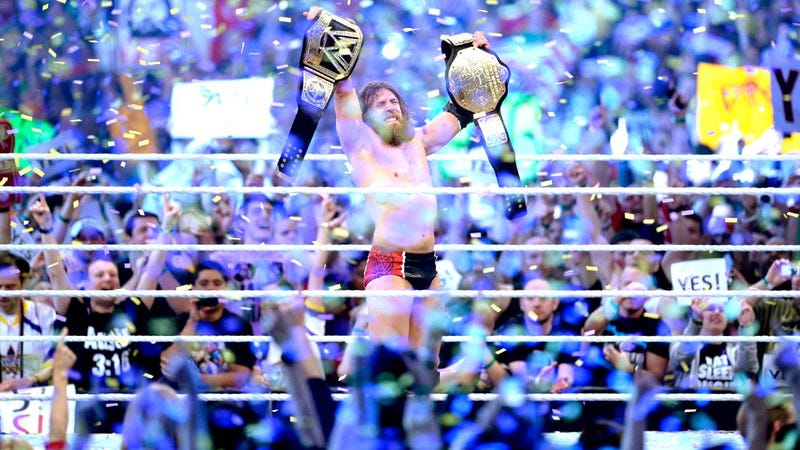 I am sure that Daniel Bryan, who is possibly the greatest pro wrestler in the world, wants to wrestle this Sunday. If he does—if he competes in WWE's 30-man Royal Rumble—then I hope that the thousands of Daniel Bryan fans who've been rooting for him to make a comeback don't discover one day that we basically rooted for the man to get brain damage.

I am, full disclosure, a Daniel Bryan obsessive. I've been torn since April about what to think about his future, and how to interpret his employer's treatment of his health. I've been unsure what to hope for as a fan, and how to separate a spectator's selfish desire to be entertained from the respect we should have for the well-being and free will of those who entertain us.
I've been unsure about a lot, since this isn't just about the pseudo-realities of modern pro wrestling but also the unclear science about the long-term effects of concussions.
UPDATE - 1:41pm, February 8: Daniel Bryan has announced his retirement from wrestling. While some are hoping this is a storyline or think this might be his way of wriggling out of a WWE contract, for now it seems like it could be legit.
Original story follows.
Here's the deal:

Daniel Bryan has had a significant and sensational wrestling career since around the turn of the century. He compensated for being small—well under six foot—by mastering a range of hard-hitting and more technically-complex styles that made him a star in various indie leagues for years. He's a fun wrestler to watch, one who knows how to manipulate the crowd's emotions, and knows how to do the dance well. The match that sold me on his excellence many years ago was a half-hour indie bout where he villainously defied a crowd's bloodlust by repeatedly wrapping his opponent's cranium in the least-violent move ever, a headlock. Before long, the crowd was approvingly chanting "head lock!"
WWE is a weird company that oscillates between entertaining its fans and infuriating them. Often, they accomplish that by favoring different wrestlers than the ones fans cheer for. Bryan has spent most of his WWE career as one of those guys seemingly unfavored by management. For many years he seemed to be working for a company that had trouble respecting him.
Bryan was signed by WWE in 2009 when, from the start, his new employers took the odd approach of simultaneously treating him like a star and a loser. He was, for example, the centerpiece of the promotion's early NXT show but was made to lose every week. Years later, after the first seven of the events chronicled in the aptly headlined article Top 10: Times WWE Dropped the Ball with Daniel Bryan, WWE spent a month promoting him as the Rocky Balboa to then-champ John Cena, had him win the world title and then get pinned a few minutes later in a double-cross before being pushed back down the card. Months later, pro-Bryan crowds kept disrupting parts of WWE programming by chanting for him. He was given a character change which fans rejected, then finally got a run at the world title leading to this feel-good moment:
In the spring of 2014, Bryan was no longer mocked by the show's commentators. He was featured all over WWE programming and seemed to finally be getting his due. Fans and management were finally on the same page about the guy, just as his body began breaking down.

A month after he won the world title at Wrestlemania 30, Bryan relinquished it due to a nerve injury involving his neck and arm. Bryan had masked some of his injuries, saying that his arm had been bothering him in the lead-up to that event. More worrying was the fact that he said he couldn't remember one of the signature moments of his career, an early-2014 character turn that led to one of the most exultant moments of crowd celebration of this generation of pro wrestling. Bryan would later remark that he'd gotten a concussion in the match, somehow just before he was holding the crowd in the palm of his hand.

Bryan didn't wrestle much after the spring of 2014 and fans, myself included, feared he was done. He returned in early 2015 and was immediately booked by management to wrestle matches in nearly every WWE show. He was treated more like a star this time around, and he wrestled as hard a style as ever, tempting fate and testing his resilience. He wasn't given a world title run, but he was given the Intercontinental Title at Wrestlemania 31 that spring, and seemed set for WWE's second-biggest TV show, Smackdown, to be built around him. He then got injured (again), went down a month after Wrestlemania (again), had to give up his title (again) and then went on the shelf for an undetermined amount of time (again).

Once Bryan was giving up a title belt a second time it became easier to relate to WWE's skepticism about the wrestler. Maybe he really was too small, or at least was breaking down too much. His career might be over soon and wasn't one to which one could pin a company's fortunes.

That'd be convenient. Bryan was never WWE's prototypical wrestler. He's too little for them, and he doesn't look like a Greek god or a super-hero. It's less of a surprise that they didn't book him to even be in the 2014 Royal Rumble, but more of a surprise that the crowd, so in love with him, booed the eventual winner out of the arena. WWE wound up looking stupid when they booked him to look bad in the 2015 Royal Rumble, the second straight year that the guy who won got booed out of the arena. A sensible WWE would let Bryan win the Rumble this year, or so it seemed in early 2015. If you were a Bryan fan you could count on it. You had to figure they'd at least give him a chance at last in the January 2016 Rumble. Surely they wouldn't let his fans derail the event for a third straight year.