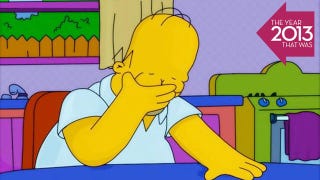 2013 was one hell of a year for video games. So much action, so much drama! Such suspense, such anger and jubilation! It was a year of great change, in which things didn't always always go according to plan and plenty of games failed to live up to expectations.
We don't love being negative here or anything. But when we hear that something's going to be great, that it's going to change the way we think of games and indeed, the world… well, it'd better be great!
Just like we did last year, all of us on staff here at Kotaku put our heads together and came up with a list of our biggest disappointments of 2013. Of note: These aren't necessarily things we're mad about, they're things that disappointed us. Also bear in mind that some of the disappointments listed here may run slightly counter to the individual opinions we've run on the site over the year.
Last thing: It's not all darkness and negativity. As we did last year, we'll run a "Best Surprises of 2013" post next week as well.
For now though, sadness reigns. Here we go. Release the hounds!
LucasArts Goes Under, Star Wars 1313 Gets Bagged
We'd heard whispers for a while that all was not well at LucasArts, but it was still a bummer to see the company—responsible for some of the most beloved games of the late 90s and early 2000s—get shut down by Disney. Even more of a bummer: Watching the promising-looking Star Wars 1313 go down with the ship, likely never to be resurrected. Shit. We later learned a lot more about what happened before the studio went under, but that doesn't make the fond memories—and the dreams for the future—any harder to watch disappear.