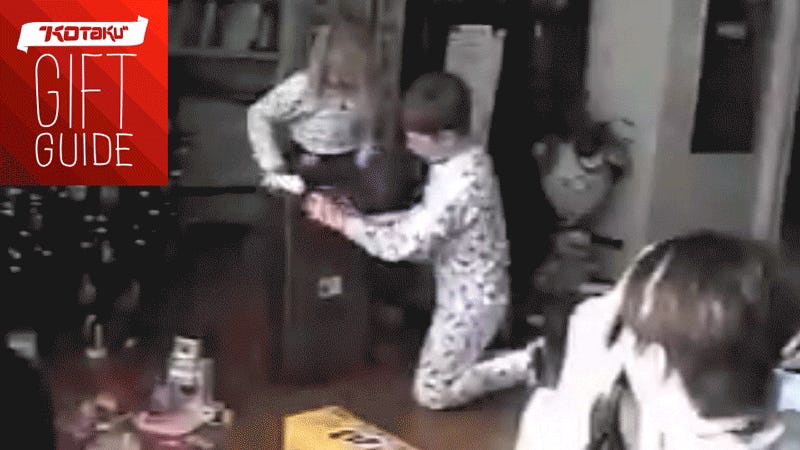 It's actually not always that easy to just buy a video game console. Almost every console on offer comes bundled with some game or other. That's not a bad thing, of course, but it can make the process of picking out a gift a little tricky.

When picking a new console as a gift, your choice will hopefully be dictated by the desires of the person you're buying for. This is one of those gifts that's best not left to chance—make sure you know ahead of time which system your giftee wants, what kinds of games they like, and which games their friends play.
(Side note: We're not including gaming PCs in this guide, because as lovely as PC gaming is, giving a gaming PC as a gift is... a complicated proposition. It's a wonderful gift, but not exactly gift-guide friendly. If you want to get someone a gaming PC, it's probably best that you just get them a card that says "I'm buying you a gaming PC!" and then go work more closely with them to make sure you get something that works works for them.)
Okay, back to consoles! Armed with the knowledge of what your loved one wants, it'll be time to go get a console. Here are the bundles—and in some cases, non-bundles—that you should consider for this holiday season.
---
1TB may seem like a lot of hard drive space, but modern video games are big enough that it'll fill up fast. It's a significant upgrade from the Xbox One's previous 500GB hard drive, however, and certainly a worthy upgrade.
Fallout 4 is probably the biggest game to be bundled with an Xbox One this year—rare is the gamer who would turn their nose up at its inclusion in a bundle. It's a good game, too—read our review here.) The addition of a free, backwards-compatible version of Fallout 3 is a nice bonus, though it's unlikely that most players will want even more wasteland-exploring after spending a billion hours finishing this year's game.
The other 1TB bundle worth considering is the Rise of the Tomb Raider bundle. It's another solid game, and one that you can only play on Xbox consoles this fall.