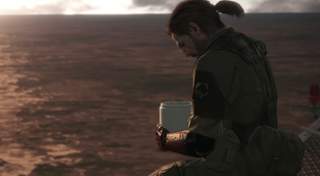 Yesterday, the biggest game magazine in Japan, Weekly Famitsu, held an awards ceremony. In the past, Hideo Kojima has attended the Famitsu Awards. This year, he did not.
Many other famous creators were on hand to go on stage and receive their awards.
[Photo: Famitsu]
Like Level-5's Akihiro Hino, creator of the incredibly popular Yokai Watch.
[Photo: 1stPD_PR]
Square Enix's Yoshinori Kitase showed off the award Final Fantasy X received. This photo was tweeted out by the Square Enix, who seem proud!
[Clip via NicoNico]
Smash Bros. creator Masahiro Sakurai was also honored.
Regardless what you think of Famitsu, this is an event that the Japanese game industry luminaries make time for, whether they're the middle of production or not.
Kojima's absence wouldn't be that strange if there weren't strange things going on (more here and here). That, and there's the fact that Hideo Kojima has appeared at the Famitsu Awards several times in the past when his games have won prizes. People like to have their work recognized! They like getting awards. Hideo Kojima is probably no exception.