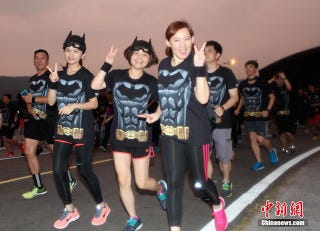 Hot off the heels of the previous fun run, the folks over in Taiwan have held another hero run. This time, they run for the Dark Knight!
To celebrate the 75th anniversary of Batman's publication, the fine folks over at Warner Bros. have set up a night time fun run for the Taiwanese fans of the Bat. Held on Saturday, upwards of 10,000 people ran a 5-kilometer course on Taipei's riverside biking route.
Held in the same fashion as the previous Marvel Superhero fun run, participants could choose to dress up as the Gotham hero himself, or wear appropriately decaled shirts. Of course some people just showed up as heroes!