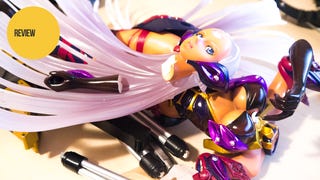 Of all the Gathering statues from e2406.com I've reviewed, I was most looking forward to their gorgeous 20-inch rendition of Xenosaga's T-elos. Some role-players prefer Kos-Mos, but my heart was always with this dark-and-deadly Mary Magdalene cyborg. In the game she nearly took down the entire party all by her…
Recently released in Japan, Namco Bandai's Tales of Hearts for the Nintendo DS features a slew of support-character cameos, including everyone's favorite gnosis killing machine, KOS-MOS.
Time for a Xenosaga figure. This one's android Kos-Mos, from Episode III, and she's brought to us by
Sideshow Collectibles
. Scheduled for release early next year, she's going for USD$80, and stands just over 8" tall. Connoisseurs of Xenosaga, pointy hair and battle-ready cleavage will not be disappointed.
Remember that scene in Xenosaga Episode III: Also sprach Zarathustra when you and KOS-MOS went to the beach for a picnic and she packed a lunch and she was wearing that tasteful yet aesthetically fitting bikini and it was the best day ever? No? Really? Maybe that was from a fanfic I wrote. No matter, as ALTER, makers…