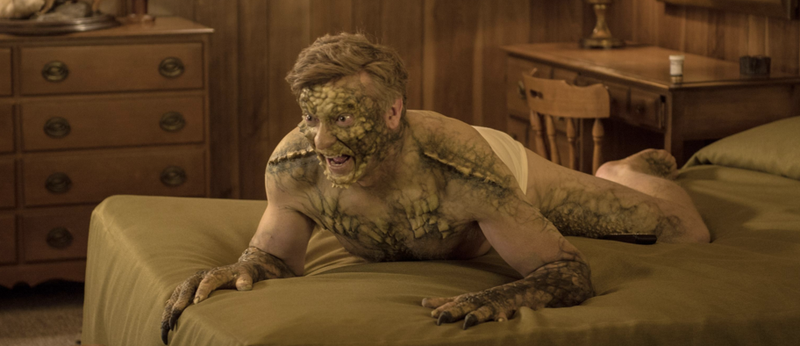 The X-Files didn't get off to a promising start, but if the disappointing premiere scared you off, it's time to come back. Last night's episode, "Mulder & Scully Meet the Were-Monster," was the series at its best.
It's easy to sneer at Hollywood's obsession with sequels and reboots, but eventually, the dice rolls in your direction. One person's cynicism is another's nostalgia. For me, it's The X-Files, a show that defined my childhood. Last night was a big deal—The X-Files was back. It kinda sucked, and I definitely don't care.
Like many of you, I've been making my way through The X-Files over the last several months in anticipation of the new six-episode revival later this month. And this week I came upon an episode in season 7 written by acclaimed author William Gibson, "First Person Shooter," about a VR video game. It might be the best…
This year is full of great science fiction and fantasy TV series. Actually, 2016 is too full. Seriously, check out how long this list of new, returning and potentially premiering shows due out over the next 12 months is. When are we going to get a chance to leave the house and watch all those great movies, or read all…
There was bound to be new figures enroute with X-Files briefly returning to TV in January. But it's hard to get excited about Diamond Select Toys' Mulder and Scully figures which bear only a passing resemblance to the characters we're so happy to have back.
Doctor Strange will be dark and psychedelic, according to its Director of Photography. Sleepy Hollow will try to bring the focus back on Abbie and Ichabod this season. Plus, Clark Gregg teases Coulson's prosthetic hand on SHIELD, and the new Nightmare on Elm Street reboot gets a writer. So many spoilers!
New documents obtained under a Freedom of Information Act request show that Scotland Yard kept a secret dossier on various science fiction shows and movies out of a fear that they would cause rioting and cyber attacks. On the list of worrying imports were Star Trek, The X-Files, Roswell, Dark Skies, and Lawnmower Man.
There are writers who disown entire books after they've written them, but sometimes writers like their stories on the whole, but feel a twinge of regret over one a small (or not-so-small) detail. Here are a few decisions that the writers, in hindsight, wished they had thought through a little better.
If you like comics, you're going broke this summer. Seriously, talk to an accountant about bankruptcy now, because there's no way you'll be able to pay rent if you even want to buy half the awesome comics coming out this summer. But at least this guide will help you determine which half to blow your savings on.
Traditionally, it's damsels who need saving, what with their pretty dresses, bosoms and emotions. Men, on the other hand, are theoretically strong and self-sufficient… which is why it's so satisfying whenever these tables turned. Here are seven dudes who would be dead without their infinitely more competent damsels.
Most heroes get a facelift every decade or so, to keep them from showing their age. The longer an epic saga goes on, the greater the chances you'll see everything start over from scratch. But not everybody succumbs to the Etch-a-Sketch urge. Here are 10 epic storylines that have never had a reboot. Ever.
I don't know why, but a ton of people I know on Twitter have been talking about and rewatching The X-Files. (Clarification: This phenomenon pre-dates rumors that Mulder and Scully had gotten together in real life (which have since been debunked?) though I'm sure that's contributing lately.)